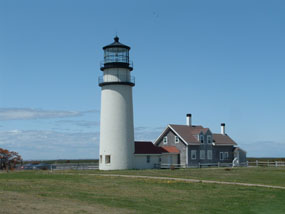 Two historic lighthouses within Cape Cod National Seashore, Highland Light and Nauset Light, were recently relocated back from the eroding cliffs of the Outer Cape. The relocations were landmark victories for historic preservation on Cape Cod. Yet, other dramatic changes in who would take care of the lighthouses in the future and how the public would experience them from the inside out were made as well.
Ownership of both lights will pass from the U.S. Coast Guard to the National Park Service. In turn, the Coast Guard and Cape Cod National Seashore have agreements in place with private non-profit groups, the Nauset Light Preservation Society and the Highland Museum and Lighthouse, Inc., that will maintain the lights and offer regularly scheduled tours of their interiors.
There are some fascinating similarities between the two lighthouse moves. Although Highland has stood on the towering bluffs of Truro since 1857, and Nauset has guarded the shores of Eastham since 1923, both were moved in the same year: 1996. In both cases grassroots organizations alarmed by the closeness of the coastal bank to their beloved lights spurred governmental action to save the lights beginning in the early 1990s. Each lighthouse stood at a location served by two earlier generations of light towers, towers that had either been replaced over time or lost to the encroaching sea.
Both lights will continue as aids-to-navigation, Highland still officially a Coast Guard Light and Nauset a private one. Both moves captured the imagination and support of an international constituency. Both moves were done by the same company: International Chimney Corporation of Buffalo, NY. Perhaps most satisfying is that the same groups that helped save the lights from certain destruction will operate their respective lights into the next century.
Yet the movers who faced that daunting task of relocating the lights saw the two lighthouses as very different structures. Nauset was made to be moved around: after all, it had been built as one of the Chatham twin lights in the 1870s before being moved to Eastham.
At the Highlands, the historic Highland Golf Links that surrounded the Light complicated the lengthy relocation site selection process. At Nauset, private property issues limited the choices.In the end, the mover's rugged system of hydraulic rams, I-beams and rails pushed Highland 450 feet west over a two-week period during the heat and dust of July.

Four months later, Nauset settled onto its new foundation 300 feet to the west via flatbed truck in a mere three days. The lighthouses were safe: Highland had barely 110 feet to spare from the edge of the cliff by the time is was saved, Nauset 37 feet.