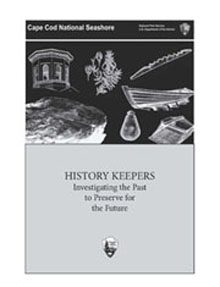 Be a History Keeper: Investigating the Past to Preserve for the Future
Recommended for grades 5 and up.
An in-depth activity workbook was written for kids and their families visiting Cape Cod National Seashore. However, teachers may find this workbook supports their history curriculum. The workbook is in draft stage, learning standards will be matched to the workbook and available to teachers in 2012.
The units and activities introduce students to the concept of cultural resources…those historically important landscapes, structures, archeological sites, people and museum objects that tell the story of people in the past. It's the student's job to uncover the clues so the story can be as interdisciplinary within the historic preservation realm as possible.
It is recommended that students read and complete the Introduction and Unit 1-Cultural Resources activities at home or school. Activities in Units 2-7 need to be done while on a field trip to Cape Cod National Seashore, units can be done alone or in combination with others. It is not expected that all units will be completed in one visit due to time, choose the units with activities that best match your curriculum. Each unit takes 30-60 minutes to complete.
Units 2-5 use the Fort Hill Area as their case study, Unit 6 requires a visit to the museum at the Salt Pond Visitor Center, Rte. 6, Eastham. Unit 7 activities-"Wayside Exhibits" can be started anywhere in the park and then completed at home.
Students will learn and have fun as they follow clues to uncover the history of Cape Cod National Seashore and preservation goals of the National Park Service.For field trip planning assistance and submitting workbook suggestions, email: e-mail us, Barbara Dougan Education Specialist, Cape Cod National Seashore.
Click on the highlight on the right to preview and print Be a History Keeper: Investigating the Past to Preserve for the Future. Be sure to print the units and activities out and bring copies for teams of students, copies are not available in the park.