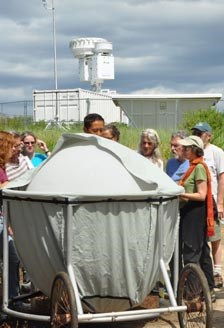 The Two Column Aerosol Project at Cape Cod National Seashore - Climate Challenge Education: Lesson Plans and Background
In July 2012, the National Park Service (NPS) Atlantic Research Center at the Highlands Center welcomed a year-long "Two Column Aerosol Project" (TCAP) funded by the Department of Energy's (DOE) Atmospheric Radiation Measurement (ARM) Climate Research Facility. The research emphasis is on clouds and aerosols above Cape Cod. The park education staff also received a Climate Challenge Program grant sponsored by the National Park Foundation. Through this grant the park presented a three day teacher workshop, and received funding to provide climate education programs and field trips to visit the ARM facility in summer and fall 2012.
Education Rangers Cathy Skowron and Barbara Dougan adapted two lesson plans from the ARM education page www.arm.gov and NASA sources that teach students about clouds and aerosols, the focus of the TCAP research. http://campaign.arm.gov/tcap/.
To download the ARM related lesson plans visit:
All About Aerosols:
Climate Literacy Principle: Our understanding of the climate system is improved through observations, theoretical studies, and modeling. http://parksclimatechallenge.org/lessons/aerosols_lesson.pdf
Connecting Clouds to Climate:

http://parksclimatechallenge.org/lessons/clouds_lesson.pdf
To view videos about the Cape Cod TCAP project:
Weather Balloon Launch: https://www.youtube.com/watch?v=OS4egrgu_Xs
A Tour of Atmospheric Radiation Measurement (ARM) Climate Research Facility: https://www.youtube.com/watch?v=nDpL9D0uo-I
To see more ARM videos visit: https://www.youtube.com/user/armgov/videos?view=0
For more information about Climate Change at Cape Cod National Seashore t and park climate research our Climate Friendly Park action plan visit:
https://www.nps.gov/caco/parkmgmt/climate-friendly-parks-program-at-cape-cod-national-seashore.htm
For more National Park Service wide related climate education lesson plans visit:
The National Park Foundation: http://parksclimatechallenge.org/lessons.php
The National Park Service Climate Change Response Program: https://www.nature.nps.gov/climatechange/