Dr. Jeff Spendelow, a Research Wildlife Biologist with the U.S. Geological Survey Patuxent Wildlife Research Center, has been studying roseate terns for almost 40 years. For the last ten summers, he has followed the terns to Cape Cod and become a fixture on our beaches and at our research lab in North Truro. You might say he has become migratory, much like the birds he studies.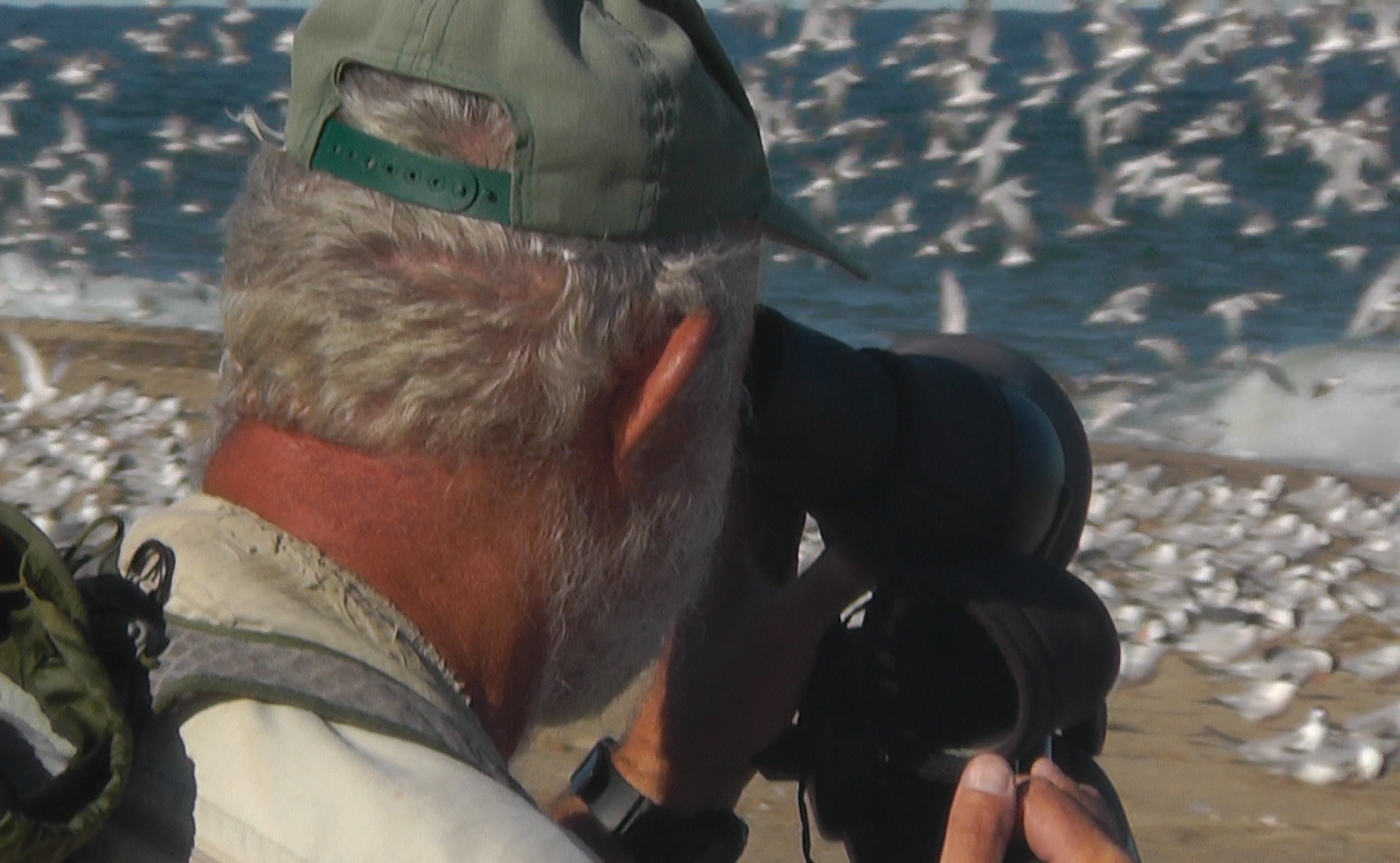 The northeastern U.S. roseate tern breeding population entered a steep decline in the late 19th century, hunted for the hat trade. With protection introduced by the Migratory Bird Act Treaty, the population rebounded in the 1930s for a time before declining once again following the 1950s. In 1987, under pressure from predation, disturbance, and habitat loss, the roseate tern was listed as Endangered in the northeastern U.S. and Threatened in southern states as well as Puerto Rico and the U.S. Virgin Islands. Today, Dr. Spendelow estimates there are 8,000-9,000 roseate terns that breed from the south shore of Long Island, New York north to Nova Scotia and Quebec, Canada.
In 2011, researchers began employing 'plastic field-readable' (PFR) color bands on roseate tern adults and chicks at several nesting sites spanning the breeding range. The PFR color bands are a major improvement over previous bands as they can be read quickly at a distance up to 50 meters. With the increased ease of bird identification, PFR color bands have enabled the study of staging site use by roseate terns as a function of their colony site of origin, age, breeding status, and whether or not they are providing post-fledging care to a hatch year (HY) bird. (Click here to learn more about Age Codes for birds)
Staging sites are where the birds prepare for their first migration. In the case of the roseate terns, this means flying to the north coast of South America. Young roseate terns need their parents' help to get enough food to pack on the fat reserves necessary for the journey and to learn how to feed themselves.
Graduate students from Virginia Tech and State University of New York College of Environmental School of Forestry have assisted Spendelow with his research at Cape Cod National Seashore. In collaboration with the MA Audubon Coastal Waterbirds Program and with funding from the National Park Service, the research has shown that Cape Cod is a critical staging area for roseate terns. From mid-July through early October, post-breeding adults and first-year roseate terns from the entire nesting range of the endangered NW Atlantic breeding population use Cape Cod to stage for migration. Recent results have shown that non-breeding adults (and failed breeders) also stage on Cape Cod. The non-breeding birds come north for 2-3 months to stage on Cape Cod prior to the arrival of the post-breeding and first-year birds. What they have learned is that Cape Cod National Seashore beaches and nearby waters provide critical resources to a larger proportion of the entire population for a longer time than previously thought. This finding has led to a new research question about whether individual roseate terns continue to use the same or new staging sites as they mature and become breeding adults.
As September passes by and summer turns to autumn, there are fewer and fewer roseate terns left on Cape Cod. After a long field season, Jeff Spendelow is gone as well, having returned to his winter home. Cape Cod National Seashore relies on dedicated scientists like Jeff to help study the great range of our natural resources, and we look forward to his return next summer along with the terns.