City Nature Challenge BioBlitz 2022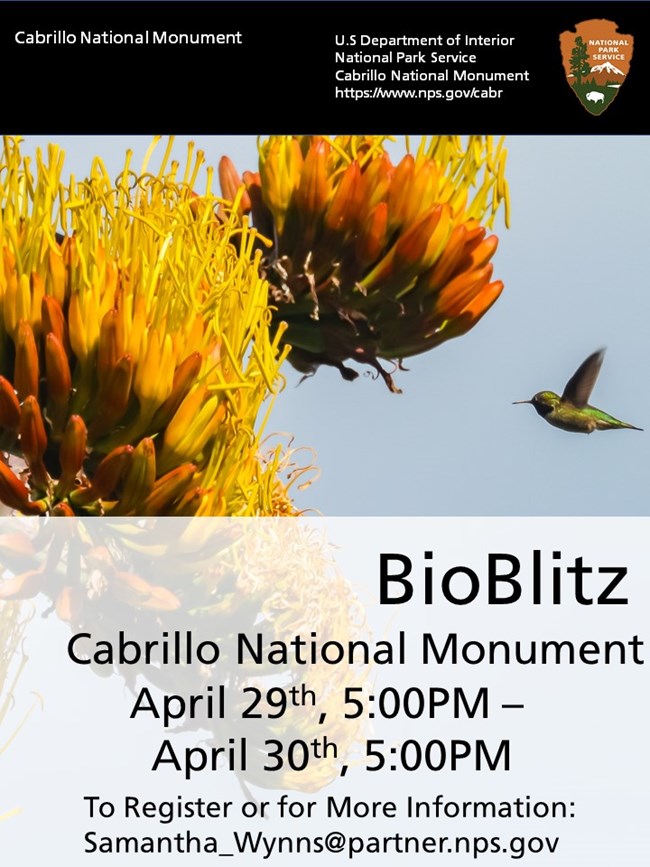 The 24-hour BioBlitz is Back!
A BioBlitz is a concentrated effort to discover and document as many species of plants, animals, and other organisms in a certain period. This helps map the biodiversity of a given area and can be used as a tool to measure impacts and changes over time. This "snapshot" of biodiversity is a great way to connect the community with science and the outdoors in a fun, interactive, and engaging way. Join park staff, local scientists, and fellow nature enthusiasts for a 24-hour BioBlitz at Cabrillo National Monument to learn about, and gather data on, some of the incredible biodiversity San Diego sports. In conjunction with the City Nature Challenge, cities across the nation will compete over the weekend for the highest number of species and observations. We'll be pulling out all the stops for cataloging our plethora of species by doing ranger-guided tours around the monument. Whether you're a researcher, a naturalist, or a lover of your national parks, this event will have something for everyone, so join us in making San Diego number one!
When: April 29th, 2022 5:00PM – April 30th, 2022 5:00PM
Where: Cabrillo National Monument

Registration for this event is now closed. You may participate without registering during regular park hours on Saturday, April 30th from 9:00 AM - 5:00 PM. Look for the "BioBlitz Information Station" by the Visitor Center!
Last updated: April 29, 2022