Laws & Policies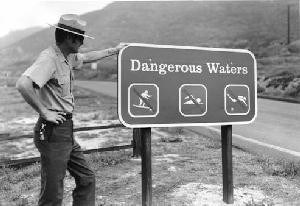 Firearms

As of February 22, 2010, a new federal law allows people who can legally possess firearms under applicable federal, state, and local laws to legally possess firearms in this park.

It is the responsibility of visitors to understand and comply with all applicable state, local, and federal firearms laws before entering this park. As a starting point, please visit our state's website by clicking here.

Federal law also prohibits firearms in certain facilities in this park; those places are marked with signs at all public entrances.
To Protect Visitors and Resources: Policies and Regulations
In accordance with regulations and the delegated authority provided in Title 36, Code of Federal Regulations (36 CFR), Chapter 1, Parts 1-7, authorized by Title 16 United States Code, Section 3, the following regulatory provisions are established for the proper management, protection, government, and public use of those portions of Cabrillo National Monument under the jurisdiction of the National Park Service. Unless otherwise stated, these regulatory provisions apply in addition to the requirements contained in 36 CFR, Chapter 1, Parts 1-7.
I. 36 CFR 1.5 – Visiting Hours, Public Use Limits, Closures, and Area Designations for Specific Use or Activities
(a)(1) The following visiting hours and public use limits are established for all or for the listed portions of the park, and the following closures are established for all or a portion of the park to all public use or to a certain use or activity:
Visiting Hours
The following are the established hours for areas within Cabrillo National Monument:
Visitor Center Building Complex
9:00 AM to 5:00 PM
Old Point Loma Lighthouse
9:00 AM to 5:00 PM
Radio Station
9:00 AM to 5:00 PM
The following areas are closed in the evenings at the times listed below until Catalina Post 2 Gate is closed. The areas are accessible by the public at all other times when Catalina Post 2 Gate is open.
Bayside Trail
Closed at 4:00 PM
Tidepool Area (Cabrillo Road)
Closed at 4:30 PM
Cabrillo National Monument
Closed at 5:00 PM
Special note: The Superintendent may extend hours during the summer months per memorandum.
Public Use Limits
Tidepool Group Use: The use of the tidepools by groups is not to exceed 120 persons on weekdays and 80 persons per day on weekends and holidays.
Parking around the Old Point Loma Lighthouse is limited only to visitors that have obtained a parking pass from the park due to handicap, age, or other physical reasons that would inhibit them from otherwise walking to the lighthouse. Permit holders must park in the designated parking spaces south of the lighthouse.
Closures
All unpaved areas are closed to the public in order to protect the coastal sage scrub environment and to provide visitor safety with the following exceptions:
Bayside Trail
Coastal area west of Gatchell Road and south of the Coast View parking area (parking area #2).
Rock outcrop area between the Old Point Loma Lighthouse and the Ocean View parking area.
Tidepool closure: To protect the tidepool flora and fauna from the negative impacts of visitor use and allow it to recover, the Superintendent has designated the southernmost section as critical habitat and closed it to public entry. The closed area extends west 300 yards from the mean low tide and will be clearly posted with Area Closed signs and barricades during low tides. Information will be posted at the tidepool bulletin board informing visitors that a zone closure is in effect.
Sea Cave area closure: The area which lies west of the fence which extends along the west edge of the Sea Cove parking area (parking area #3), north to the Wastewater Treatment Facility property, and south to the Coast View parking area (parking area #2) is closed to the public. Included in this area is a sea cave. This closure extends to any manner of entry into the cave, whether through the sea level entrances or through the collapsed ceiling.
Military structures closure: The interior portions of all historic U.S. Army structures, including searchlight shelters, the WWII power generating station, and the base end and battery commander stations, are closed to the public unless they are specifically opened by the park staff for interpretive purposes.
The following restrictions and/or conditions are in effect for the specific uses or activities noted:
Passenger-carrying buses are subject to the following conditions/restrictions on all park roads within Cabrillo National Monument:
Buses must shut down their engines when not underway.
Kite flying:
Kite flying is prohibited in any area which may distract from the historic value of the lighthouse experience. Specifically, this prohibition is in effect from the Whale Overlook, around the lighthouse, to the northern beginnings of the lighthouse entrance road (Battery Humphries Road). This area is to include the rock outcrops north of the lighthouse and any part of Battery Humphries Road.
Models and remotes:
The use of model rockets, remote or manually-controlled model gliders, model airplanes, model boats, and model cars is prohibited in all areas of Cabrillo National Monument for the safety of visitors and the protection of natural and cultural resources.
II. 36 CFR 1.6 – Activities that Require a Permit
(f) The following is a compilation of those activities for which a permit from the Superintendent is required:
1.5(d) The following activities related to Public Use Limits:
- Tidepool Group Permit
- Lighthouse parking
2.4(d) Carry or possess a weapon, trap, or net
2.5(a) Specimen collection (take plant, fish, wildlife, rocks, or minerals
2.10(a) The following camping activities: (Not applicable at Cabrillo National Monument)
2.12 Audio Disturbance
- (a)(2) Operating a chainsaw in a
developed area
- (a)(3) Operation of any type of
portable motor or engine, or
device powered by a portable motor
or engine in non-developed areas
- (a)(4) Operation of a public address
system in connection with a public
gathering or special event for which a
permit has been issued pursuant to
2.50 or 2.51

2.17 (a)(3) Delivery or retrieval of a person or object by parachute, helicopter, or other airborne means
- (c)(1) Removal of a downed aircraft
2.23 (b) Special recreation activities (per part 71, 71.10)
2.37 Soliciting or demanding gifts, money, goods, or services
2.38 (a) Use, possess, store, transport explosives, blasting agents
- (b) Use or possess fireworks
2.50 (a) Conduct a sports event, pageant, regatta, public spectator attraction, entertainment, ceremony, and similar events
2.51 (a) Public assemblies, meetings, gatherings, demonstrations, parades, and other public expressions of views
2.52 (c) Sale or distribution of printed matter that is not solely commercial advertising
2.60 (b) Livestock use
2.61 (a) Residing on federal lands
2.62 (b) Memorialization – (Scattering ashes from human cremation)
3.3 Use of a vessel
4.11 (a) Exceeding of established vehicle load, weight, and size limits
5.1 Advertisements – (Display, posting, or distribution)
5.2 (b) Sale of intoxicants in certain park areas
5.3 Engaging in or soliciting any business (requires a permit, contract, or other written agreement with the United States, or must be pursuant to special regulations)
5.4 (a) Commercial transportation of passengers by motor vehicles within specific parks (see chapter for applicable parks)
5.5 (a) Commercial filming of motion pictures or television involving the use of professional casts, settings, or crews, other than bona fide newsreel or news television
- (b) Still photography of vehicles, or
other articles of commerce or models
for the purpose of commercial
advertising
5.6 (c) Use of commercial vehicles on park area roads (the Superintendent shall issue a permit to access private lands within or adjacent to the park when access is otherwise not available)
5.7 Construction of buildings, facilities, trails, roads, boat docks, paths, structures, etc.
5.10 (a) Operation of eating, drinking, or lodging establishments in certain park areas (see chapter for detail)
6.9 (a) Operation of a solid waste disposal site
Part 7 Special Regulations
Part 14 Rights-of-Way
Part 71 Recreation Fees
III. General Regulations
36 CFR 2.1 – Preservation of Natural, Cultural, and Archaeological Resources
(a)(5) The following conditions are in effect for walking, climbing, entering, ascending, or traversing the listed archaeological or cultural resources, monuments, or statues:
The Old Point Loma Lighthouse is open to the public except those portions that are locked or otherwise barricaded from entry.
The Lighthouse tower is closed to the public for the visitor's safety and the preservation of the structure except on annual events and other special occasions when it is opened and monitored by park staff.
All military structures except the Radio Station are closed to visitor access for the safety of the visitor and the preservation of the buildings.
Climbing on the Cabrillo Statue is prohibited.
(b) Hiking or pedestrian traffic is restricted to the trail tread or walkway on the following trails/walkways:
All areas of the park except west of Gatchell Road not including any cliff area.
36 CFR 2.15 – Pets
(a)(1) The following structures and/or areas are closed to the possession of pets:
All areas of the park except west of Gatchell Road. Please visit our Pet Restrictions page for more information.
36 CFR 2.23 – Recreation Fees
(b) Recreation fees, in accordance with 36 CFR part 71, are established for the following entrance fee areas, and/or for the use of the following specialized sites, facilities, equipment, or services, or for participation in the following group activity, recreation events, or specialized recreation uses:
Entrance Fee Areas:
Entrance fees are collected at an entrance station located on Cabrillo Memorial Drive. Fees are collected 7 days a week, 365 days a year. Daily hours of operation are 9:00 AM to 4:30 PM.
Fee schedule:
- Vehicle: $15.00
- Individual: $7.00
- Annual Cabrillo Park Pass: $30.00
- Interagency Pass: $80.00
- Interagency Senior Pass: $80.00
- Interagency Access Pass: Free
(c) The collection of recreation fees will be suspended during the following period(s):
Public Lands Day
November 11 Veteran's Day - no fees for active military and veterans
36 CFR 3.21 – Swimming and Bathing
(a)(1) The following areas are closed to swimming and bathing:
All areas within Cabrillo National Monument
36 CFR 4.11 – Vehicle Load, Weight, and Size Limits
(a) The following load, weight, and size limits, which are more restrictive than State law, apply to the roads indicated under the terms and conditions, and/or under permit as noted:
There is a six ton load limit on Sea Cove and Coast View Parking Areas due to the stability of the coastal bluff.
36 CFR 4.21 – Speed Limits
(b) The following speed limits are established for the routes/roads indicated:
15 MPH in all areas of the park except on Cabrillo and Gatchell Roads
25 MPH on Cabrillo and Gatchell Roads
Portions of Cabrillo and Gatchell Roads are reduced to 15 MPH for safety reasons.


Last updated: October 21, 2018