Living History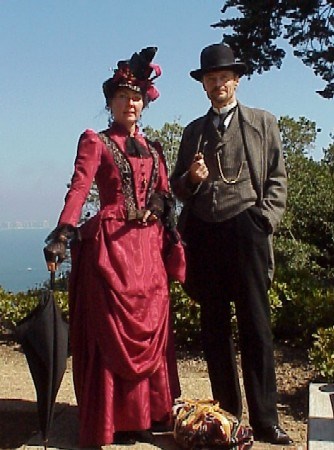 Reach Out and Touch Some Time
Contributed by Cabrillo National Monument Volunteer Nancy Walton and Historian Bob Munson
"Any interpretation that does not somehow relate to something within the personality or experience of the visitor will be sterile." -- Freeman Tilden
Freeman Tilden wrote the above for the National Park Service. It remains a core interpretive philosophy.
CabrilloNational Monument is not just a park with a big statue and a great view. We are here to help Americans understand a part of their history. It is a history which helped make us the people we are today and which will influence where our nation goes in the future. As film maker Ken Burns recently observed, "When we're armed with an historical awareness, we are enriched in every dimension. We can solve complex political (and social) problems in the present, ensure ourselves a future, and come to value the importance of place."
Key to understanding our history is to remember that history is not names, dates, and places; it is people. How do people react to each other and to situations? Names, dates and places are important to historians because they help establish the way in which people came together and reacted. For most of us, names, dates, and places are trivia. This is why at CabrilloNational Monument we concentrate on concepts and understanding. We have found that the best way to present these is by the human touch: People.
We use Living History to take visitors out of the classroom lecture or electronic media context and allow them to visit with a person from the past. It is the concept of "what I do, I understand." By talking to a Living History interpreter, they become involved with another human being who they can relate to their own lives. Even if they can't handle the equipment, wear the clothes, or do the activity, they are directly interacting with a real live human being who does. They become involved, and they understand.
There are a number of Living History interpreters at CabrilloNM. We have roving interpreters, who usually populate the area of the lighthouse, or the Military History Exhibit, as well as presenters of structured programs. Some of them portray people who were involved in the great Spanish mapping expeditions of the 1500s, particularly the Cabrillo Expedition, which landed here in 1542. These were voyages exploring a world as unknown then as outer space is to us today, using equipment much less sophisticated than that of our astronauts. The courage it took to sail a ship no bigger than a bus into an ocean of unknown size is illustrated by the fact that on average, half the Spanish explorers never came back, died, or disappeared on an expedition. It is the appreciation of the human drive to go beyond the known that impels us to do the same.
During our Living History presentations about the Cabrillo voyage, we use the personage of a despensero or supply officer on Cabrillo's Victoria to bring the life of the common man's struggles, duties, and personal life to the visitors. By discussing clothing, armor and weaponry of both sailors and soldiers, the audience can relate their lives to that of the men who came ashore here in 1542. Since approximately half of our visitors are female, we then carry involvement right into the audience by "volunteering" visitors to actually try the women's clothing worn 450 years ago. This is something virtual reality can't achieve. Just as jeans and t-shirts are the status clothes of today's youth, the clothes demonstrated to the audience were also seen as status symbols for a woman of New Spain in the 16th century. Another of our Spanish presenters portrays a navigator on the voyage, and has taught countless schoolchildren about the art of navigation in the 16th century and its legacy still with us today.
Our roving interpreters at the lighthouse and the Military History Exhibit provide a casual and more personal engagement with our guests – people are greeted by the lighthouse keeper himself, who may spend a great deal of time explaining the intricacies of caring for the lens and lighthouse, or expound on the realities of living so far from the city of San Diego, or the difficulties of obtaining enough water for his family. Visitors might also encounter a fellow visitor from San Diego – in 1889! Modern visitors often find they have more in common than they might have thought with an older San Diegan.
We have had a number of young people participate in these demonstrations, and the experience has sparked inspiration in many of them to learn more about Spanish history, lighthouses, clothing, or their own heritage. The feelings, inspiration, and connection a child particularly experiences may propel him or her on to a career in clothing history, theatre costuming, teaching history, archaeology, drama or an endless list of possibilities. Every visitor's involvement has demonstrated that doing is often more interesting than watching.
It gives visitors a priceless insight into human relations and interactions now…… and 450 years ago. Such is the goal of Living History!
Last updated: February 27, 2015