You may have noticed a couple Cabrillo biologists and resource volunteers exploring the tidepools with a few gadgets at your last visit to the park. Here we highlight those tools used for a successful intertidal monitoring sample.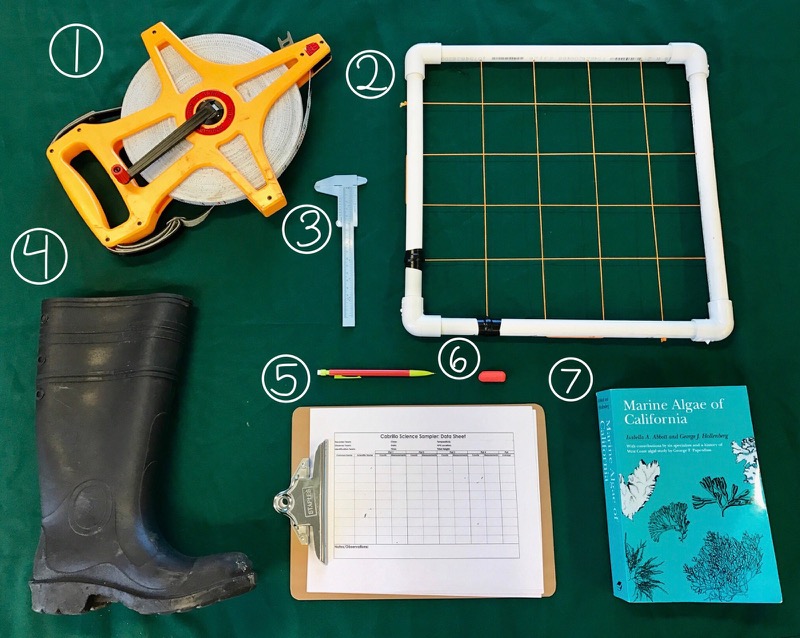 Since 1990, Intertidal monitoring at Cabrillo occurs twice per year, in the spring (February-April) and fall (October-December), and typically takes several sampling days to complete, depending on the tides and surf.  
1) 
Transect Tape:
This transect is laid out across a plot to estimate cover of surf grass, kelps and other algae in a given area.
2) 
Quadrat:
With PVC and intertwined string, the quadrants measures an area of known  shape and size. When placed on a plot in the intertidal site, our staff records the species found at the bottom right corner of the intersection of two strings, known as a point. The quadrat in total has 100 points. This gives us an estimate of cover for each of the species.
3)
Calipers:
This device is used to measure the size of an organism. It expands similar to a claw in order to provide an accurate measurement from edge to edge. When measuring, we always remember to use the metric system.  
4) 
Tidepool Boots:
 All year round, the intertidal zone is one of the most extreme environments in San Diego. In order to protect ourselves from hours of standing in the ever-changing tidepools, the sharp edges of barnacles and the very slippery algae, we wear special tidepool shoes.
5) 
Data Sheet/Pencil:
 This is where we record all of the species we find out in our plots along with several variables such as date, site, plot number, recorder, and identifier. Depending on the plot, we may record the size of a specific species, the variation of algae across a transect, the number of species and their related size over the entire site, or most commonly the species we find at each intersection of the quadrant. For our intertidal monitoring, information is collected over all zones of Cabrillo National Monument.
6) 
Chalk: 
We use a special waterproof chalk to dictate the space we are monitoring as well as which organism we have already recorded. Chalk allows our team to accurately monitor each plot without disturbing the environment. 
7) 
Field Guide:
 Red algae, brown algae, green algae? Field guides, like
Marine Algae of California
, are our personal, no Wi-Fi needed, Google on the go to help us identify what is what during intertidal monitoring. Download your own Cabrillo Intertidal Field Guide here and start identifying some these critters. How many can you find at your next visit?
https://www.nps.gov/cabr/learn/nature/upload/CABRI_Intertidal-GuideCNMC_reduced.pdf