Temporary Cave Closings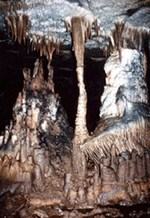 To help stop the spread of the Geomyces sp. fungus suspected to be the causative agent of White Nose Syndrome which is fatal to bats, all Buffalo National River caves are closed to recreational caving until further notice with the exception of the following:
The caves in Lost Valley from Eden Falls Cave to the Lost Valley Campground parking area are open to unrestricted recreational caving. This list of open caves consists of Eden Falls Cave, Lost Valley Natural Bridge, Cob Cave, and Natural Bridge Cave.
The caves along the trail system at Buffalo Point are open to unrestricted recreational caving except for Bat Cave which is closed. This list of open caves consists of the Indian Rockhouse Cave, Indian Rockhouse Sink, Panther Cave, Twenty-Nine and a Half Cave, Forest Trail Pit, Overlook(ed) Cave, Bullet Cave, and Sinkhole Icebox.
Back O' Beyond Cave and Silver Hill Cave are open only for NPS guided interpretive tours. These wild cave programs are conducted during the summer season between Memorial Day and Labor Day. See the Ranger Guided Activities page for details and schedules.
All cave research in the park requires a permit. This permit will stipulate protocols to prevent the spread of White Nose Syndrome to or between park caves. Researchers must carry a copy of the permit with them while in the cave(s) and traveling through the park to and from the cave(s).
According to park Geologist Chuck Bitting, Buffalo National River is one of the most cave-rich units of the National Park System with over 360 documented caves. The caves of Buffalo National River contain three species of bat on the Federal Endangered Species List, as well as four bat species which are not listed. In addition to the bat species, the caves are home to a complex ecosystem containing wood rats, salamanders, frogs, insects, spiders, and other arthropods. Bat guano is often considered the base of the food chain for these ecosystems, and the loss of bats to White Nose Syndrome could cause the extinction of several species only found in the Buffalo River area.
Last updated: April 10, 2015