Upper District Floating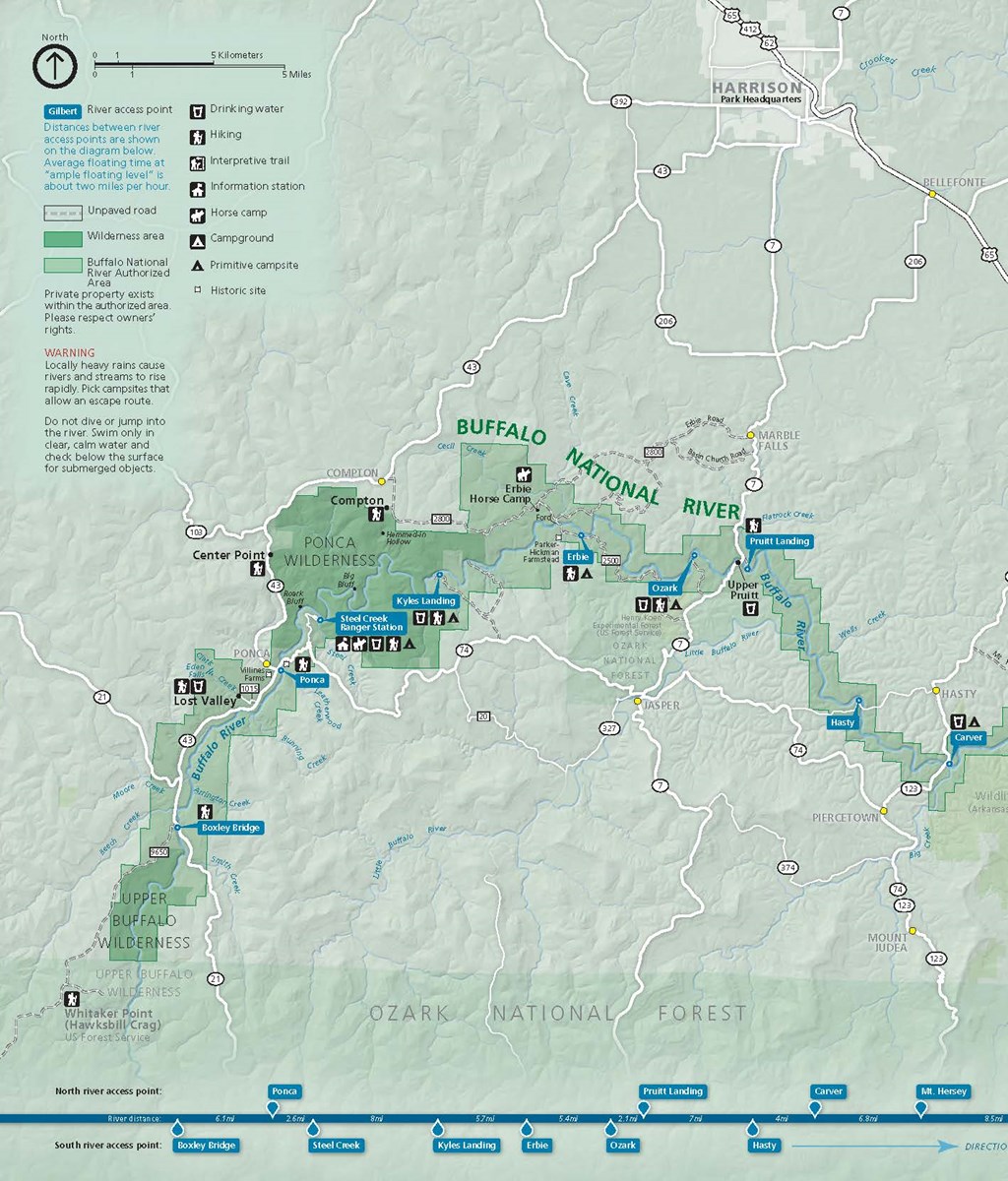 Floating conditions in the upper (westernmost) district of Buffalo National River are extremely dependent upon rainfall. On an average year, the upper river is only navigable by boat in the spring and early summer when consistent rainfall feeds into the watershed. For current floating conditions, please check with an outfitter, call the Steel Creek Ranger Station at 870-861-2570, or check river gauges online at
ar.water.usgs.gov/buffaloriver
.
The map shown does not depict many details as far as the bluffs and topography are concerned. Call the Steel Creek Ranger Station at 870-861-2570 or refer to a Trails Illustrated Buffalo National River (West Half) map for more details.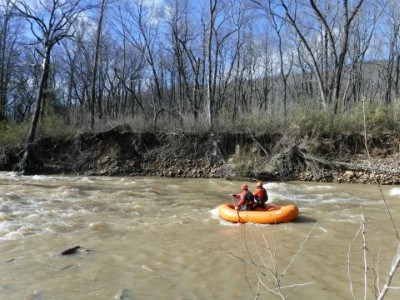 Boxley to Ponca
Distance: 6.1 miles
*Duration: 2 - 3 hours
As the most technical section of Buffalo National River, Boxley to Ponca is recommended only for highly-experienced whitewater paddlers. Water levels on this section tend to rise and fall rapidly, so paddlers must have a solid understanding of reading river gauges to properly time their float. Beneath the Boxley Bridge, the river rushes straight into a thick grove of willows. Paddlers must maneuver quickly to find their way safely through this narrow passage and the rapid left bend afterwards. From here, the river's course is generally bordered by the privately-owned agricultural fields of Boxley Valley Historic District on river left and an alternating viewshed of bluffs and pastures on river right. When possible along this stretch, paddlers should use gravel bars and eddies to scout out upcoming obstacles when they hear the looming roar of whitewater. Approaching the takeout, the river will bend left, and a long, straight stretch of tame water will guide paddlers to their destination at the Ponca low-water bridge. Shuttle time between Boxley and Ponca is approximately 10 minutes.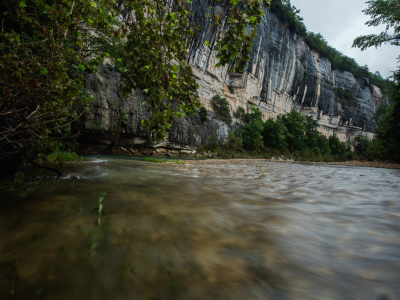 Ponca to Steel Creek
Distance: 2.6 miles
*Duration: 1.5 hours
This short section offers an introduction to the Upper Buffalo's striking scenery and challenging whitewater. About ½ mile downriver from the put-in at the Ponca low-water bridge, the river makes a sharp right bend against a fern-laden bluff. From here, the river picks up momentum with a few small rapids and chutes. Keep an eye on the forested slopes on river right; after a good rain shower, waterfalls cascade through narrow drainages into the river. About 1 ½ miles in, you'll reach the start of Roark Bluff, one of the most iconic blufflines along the entire Buffalo River. On the opposite bank and through the treeline is Steel Creek Campground. The river follows Roark Bluff for about a mile to the takeout at Steel Creek Access on river right. Shuttle time between Ponca and Steel Creek is approximately 10 minutes, almost entirely on paved roads.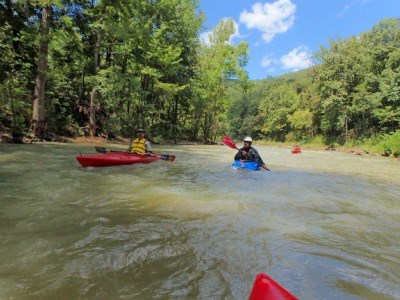 Steel Creek to Kyles Landing
Distance: 8 miles

*Duration: 4 – 5 hours
Hands-down the most beloved and popular section of the upper river, Steel Creek to Kyles Landing meanders through the heart of the Ponca Wilderness past towering bluffs, hidden side canyons, and relics of early settlement. Alternating between tumbling rapids and long, cerulean pools, paddlers will delight in the variety of pace and challenge. Landmarks along this stretch include Big Bluff, Jim's Bluff, Granny Henderson's cabin, Hemmed-In Hollow Falls, and the infamous "Hell's Half Acre." The takeout at Kyles Landing is on river right. Shuttle time between Steel Creek and Kyles Landing is approximately 40 minutes. High clearance and 4-wheel drive are recommended for the Kyles Landing Road.
Kyles Landing to Erbie
Distance: 5.7 miles

*Duration: 3 hours
Downstream from the hustle and bustle of Kyles Landing, one can find solitude among this comparatively quiet stretch of river snaking through the Ponca Wilderness. Paddlers will cruise through adrenaline-inducing shoals, tranquil pools, and haystack waves on this section with fascinating sandstone formations adorning the banks. Buzzard Bluff, a monolithic giant, towers in the distance as your first mile marker. Past Camp Orr the river briefly enters a true canyon with nearly vertical terrain on both sides. As the landscape opens back up into gentler bottomlands, watch for Goat Bluff with its gnarled juniper trees twisting toward the sky on river left. About a mile downstream from the Erbie Ford--a concrete slab where vehicles cross the river--is the takeout on river right. Shuttle time between Kyles Landing and Erbie is approximately 1 hour, mostly on gravel roads. High clearance and 4-wheel drive are recommended for the Kyles Landing Road.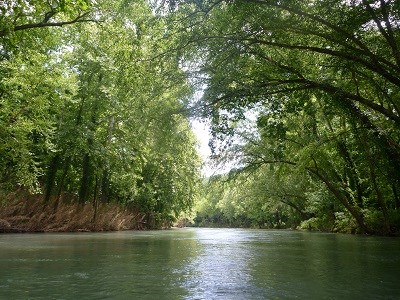 Erbie to Ozark
Distance: 5.4 miles

*Duration: 3 hours
Another serene stretch of the upper Buffalo carries paddlers from Erbie to Ozark. From Erbie Access, a chute sweeps left against a small, undercut wall of sandstone to begin a long thread of shaded pools and swimming holes named for and by the farmers who used to reside nearby. About halfway to Ozark, Porch Bluff juts out over the water on river right, immediately before the mouth of Sawmill Hollow. This drainage is teeming with wildflowers in early spring, and it has some of the biggest sycamore trees you'll ever see. After another mile, the canopy opens up dramatically, and large rock shelves offer a nice area to sunbathe on river left. The river makes a sharp bend to the right just before the takeout. Briar Bluff towers over a deep, crystal-clear swimming hole, and Ozark Campground is just uphill from the sandy beach on river right. Shuttle time between Erbie and Ozark is approximately 30 minutes.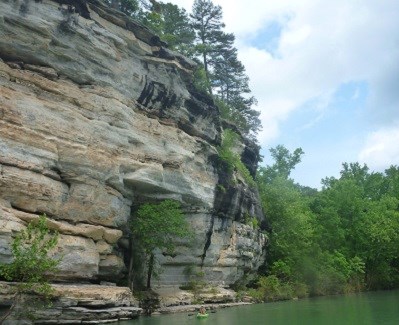 Ozark to Pruitt
Distance: 2.1 miles

*Duration: 1.5 hours
A short but delightful float, Ozark to Pruitt is a fun run with several long pools connected by bouncy riffles. The swimming hole at Ozark can get crowded on hot days, so paddlers putting in here should be especially careful when swimmers are present. Halfway through the float, high branches from trees on both banks reach across to form a natural tunnel over the river. Bobbing up and down over small waves, you'll soon reach the placid pool at the base of Pruitt Bluff, just upstream of the Hwy. 7 bridge. Continue past the bridge for about ½ mile to the takeout at Pruitt Landing on river left. Shuttle time between Ozark and Pruitt is about 15 minutes.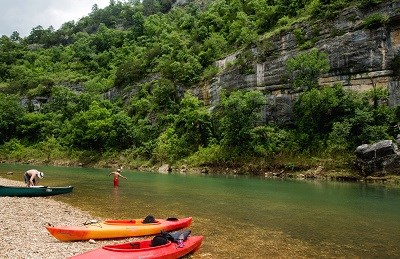 Pruitt to Hasty
Distance: 7 miles

*Duration: 4 hours
The float from Pruitt to Hasty is a popular alternative when conditions upriver are too low for paddling. This section flows past geologic curiosities, shaded swimming holes, and cool, dripping springs as the river veers southward in its journey. Welch Bluff, about a mile downstream from Pruitt, contains a geologic fault where visible rock strata have shifted about 100 feet upward on the downstream side of the fault line. At the base of Welch Bluff is the Crow Hole, a shaded swimming area with a primitive campground. Approximately halfway between Pruitt and Hasty, the Little Buffalo River dumps into the "Big Buffalo" on river right; the river typically gains velocity from here. The takeout at Hasty is a sandy beach on river right, directly across from Chimney Rock Bluff. Shuttle time between Pruitt and Hasty is approximately 25 minutes.
Hasty to Carver
Distance: 4 miles

*Duration: 2 – 3 hours
Anglers love the four miles between Hasty and Carver for its countless fishing holes and perfect smallmouth habitat. Slide your boat into the water from the sandy bank at Hasty, and Chimney Rock Bluff will guide you downriver toward the "Big Bridge" where the Hasty Cutoff Road crosses the Buffalo. There are five outstanding pools along this stretch of river. The fourth one, called "Blue Hole," is a long-time favorite swimming and fishing spot among local folks, and there's a primitive camping area with vehicular access just up the left bank. Another mile down from Blue Hole is the lofty Hwy. 123 bridge, which indicates that you are approaching the takeout at Carver. Located just downstream of the bridge on river left, Carver has a primitive campground and boasts another popular swimming and fishing area where Big Creek enters the Buffalo. Shuttle time between Hasty and Carver is about 10 minutes.
* Durations are based off a moderate or average 2 miles per hour river flow. The length of a float trip will vary greatly with changing river levels. Additionally, float times largly depend on if you paddle or not and stop to swim, fish, or explore. Please check with park staff or concessioner for a current estimate on river trip durations.
Last updated: December 19, 2018