Lower District Floating
North Maumee to Buffalo City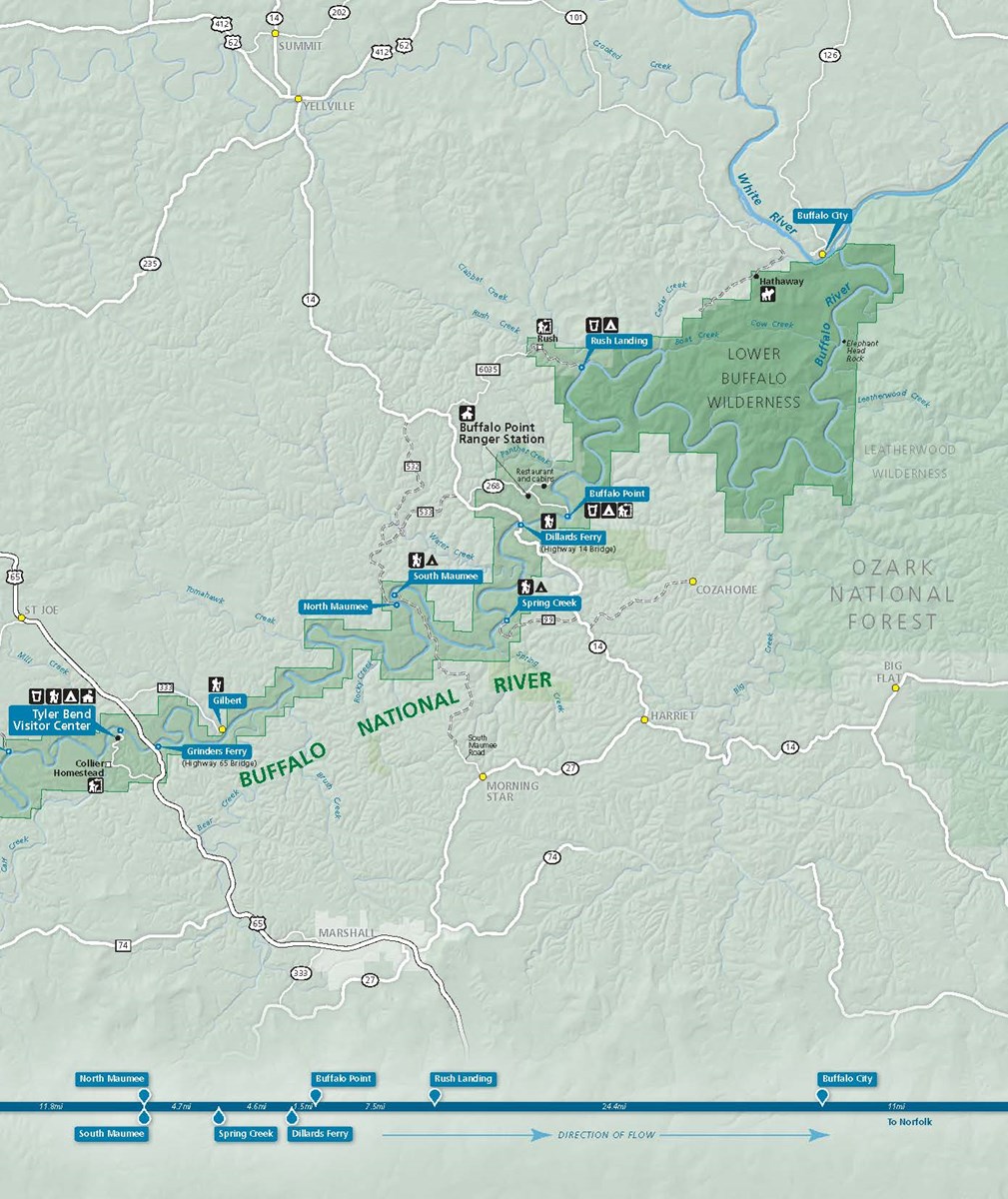 Floating conditions in the lower (easternmost) district of Buffalo National River are typically navigable year-round. The river is rainfall dependent though and needs consistent rainfall in the watershed to keep the water at a moderate level. For current floating conditions, please check with a concessioner, call the Buffalo Point Ranger Station at 870-449-4311, or check river gauges online at
ar.water.usgs.gov/buffaloriver
.
The map shown does not depict many details as far as the bluffs and topography are concerned. Call the Buffalo Point Ranger Station at 870-449-4311 or refer to a Trails Illustrated Buffalo National River (East Half) map for more details. For information about renting a vessel from one of the park's authorized canoe concessioners please visit the park's
Canoe Rentals
page.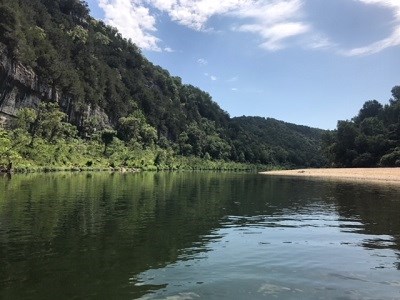 North Maumee to Spring Creek
Distance: 4.7 miles
*Duration: 3 hours
This typically quiet and calm piece of river takes you past Maumee Bluff and Schoolhouse Ridge before approaching Spring Creek itself, Spring Creek Bluff, and the Spring Creek access point and primitive campground. This stretch of river has a decent shuttle trip of approximately 45 minutes (20 miles).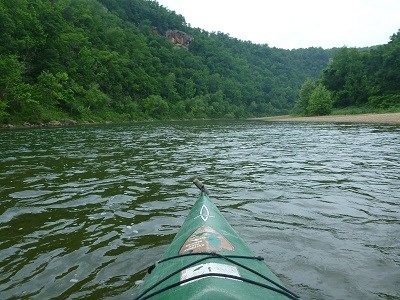 Spring Creek to Dillard's Ferry (Highway 14 Bridge)
Distance: 4.6 miles
*Duration: 3 hours
This friendly float is great for folks that want to get a good feel for the river, but don't want to be out all day. You will float by Jackpot, Kimball, and Stairstep Bluffs as you make your way towards Water Creek, a great place to park the boat and get out and explore. This float ends at Dillard's Ferry, the Highway 14 bridge.
Use caution as you float through Tie Chute, about 1/2 mile downstream of Water Creek and one mile above Dillard's Ferry. Depending on the water level, this narrow chute can be challenging to navigate. Shuttle time between Spring Creek and Dillard's Ferry is about 20 minutes (7 miles).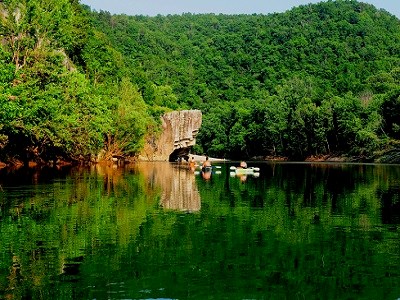 Dillard's Ferry (Highway 14 Bridge) to Buffalo Point
Distance: 1.5 miles
*Duration: 45 minutes
This is the only stretch of river on the lower end that the park recommends using tubes on. This 1.5 mile float is appropriate for those kinds of inflatible vessels. Going any further distance has the potential to create very challenging and some times even life threatening experiences for park visitors. Please see the park's
Prevenative Search and Rescue
page for more details.
The float between Dillard's Ferry and Buffalo Point is a short trip for those that have a very limited amount of time. The highlight of the trip is floating by Skull Rock. Be aware that there is not a road on the gravel bar at Buffalo Point so all vessels will need to be carried up the gravel bar to the parking lot. Shuttle time between Dillard's Ferry and Buffalo Point is 12 minutes (5.5 miles).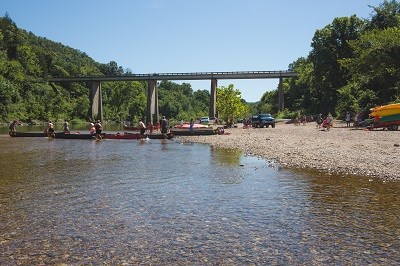 Dillard's Ferry (Highway 14 Bridge) to Rush
Distance: 9 miles
*Duration: 4 - 6 hours
This all day float trip offers some great fishing holes between Buffalo Point and Rush, where the pools get long and the current typically slows in the summer time. You have the option at stopping at Buffalo Point, which is 1.5 miles from Dillard's Ferry to admire Painted Bluff and Ludlow Bluff further downstream, which is actually the tallest bluff on the river (sorry, Big Bluff).
You will want to be sure that you don't miss the Rush access point because the next access point isn't for another 25 miles at Buffalo City. Once you arrive at Rush you may want to spend some time exploring the
historic ghost town
. There is also a primitive campground available just upstream (no safe river access, but easy vehicle access) from the landing at Rush. Shuttle time between Dillard's Ferry and Rush is 15 minutes (9 miles).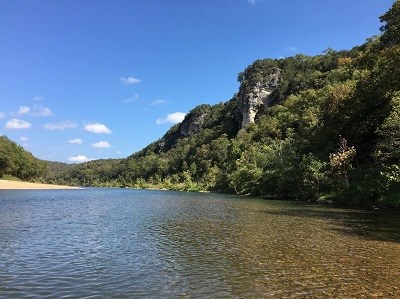 Rush to the White River (Shipps Ferry)
Distance: 30 miles
*Duration: At least 2 days
This 30 mile float cuts through the Lower Wilderness Area. This is a stretch of river that a majority of visitors never see. You will need to use care as you float through the Clabber Creek Shoals, which is 1/4 mile down from Rush. There is a large gravel bar on river right that can be used to scout out the area. If you feel that you do not want to brave the rapid you can go to river left and it is possible to portage around the rapid. If you go into the rapid it is advisable to stay river left as the rolling waves tend to be the strongest on river right. Of course river level plays a big roll in the intensity of the rapid. When the river is low (2.5 ft - 3.5 ft at the Harriet Gauge) the rapid is not really a threat. A river level of 3.5 ft or higher makes this rapid intense.
As you paddle through the Lower Wilderness you will be greeted by Woodcock Bluff, Sheep Jump Bluff, and Elephant Head Rock. You can also park your boat at the mouth of Big Creek and hike a 1/4 mile to the Cold Spring Schoolhouse, a historic Works Progress Administration structure, from the 1930s.
Ensure that your gear is tied down and when you hit the White River it is best if you paddle downstream, 6 miles, until you reach Shipps Ferry. We recommend that you visit the
Southwestern Power Administration
webpage or call them at 866-494-1993 for information on the most current discharge rates on the White River before you begin your float. Shuttle time between Rush and Shipps Ferry is approximately one hour (40 miles).
A trip through the Lower Buffalo Wilderness, starting at Rush Landing and ending at the White River. This 24- to 30-mile trip is typically done over a minimum of 2 days and nights and features perhaps the greatest opportunity for peace and solitude of any stretch of the Buffalo River.

Duration:

1 minute, 35 seconds
* Durations are based off a moderate or average 2 miles per hour river flow. The length of a float trip will vary greatly with changing river levels. Additionally, float times largly depend on if you paddle or not and stop to swim, fish, or explore. Please check with park staff or concessioner for a current estimate on river trip durations.
Last updated: September 22, 2020