Wilderness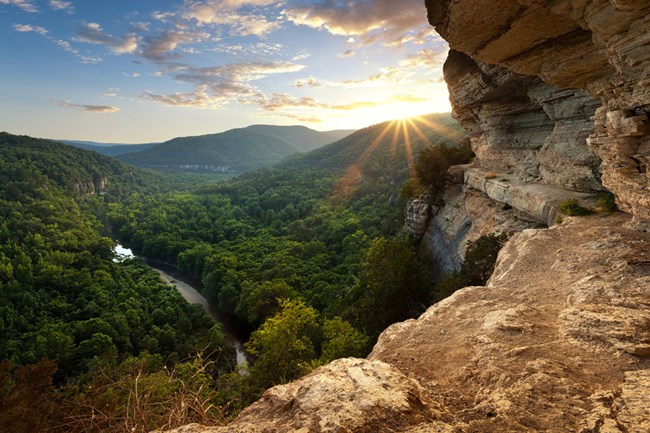 Buffalo National River has nearly 36,000 acres of designated Wilderness within its boundaries. Three Wilderness units—the Upper Buffalo Wilderness, Ponca Wilderness, and Lower Buffalo Wilderness—make up more than one-third of the land area of this park, and each unit has its own unique story.
According to Buffalo River historian Kenneth Smith, in the early 19th century European explorer Henry Schoolcraft made an expedition up the White River to write an eyewitness description of its tributaries and terrain. Of the "Buffaloe Fork" of the White River, Schoolcraft documented a rugged and trying wilderness teeming with wildlife but no sign of permanent human settlement.
Today, skilled adventurers can visit any unit of the Buffalo National River Wilderness--whether by canoe, on foot, or on horseback--and experience the "Buffaloe Fork" just as it was described by Henry Schoolcraft in the early 1800's. Bald eagles soar overhead. River otters swim and swirl in the shallows. A family of white-tail deer hesitantly crosses the river just yards in front of you before clambering up the rocky slope on the opposite bank. In Wilderness, you can spend days without seeing another human, yet you will undoubtedly be mesmerized by your company.

Check out the My Wilderness StoryMap by the University of Montana for an interactive learning experience about wilderness areas across the United States.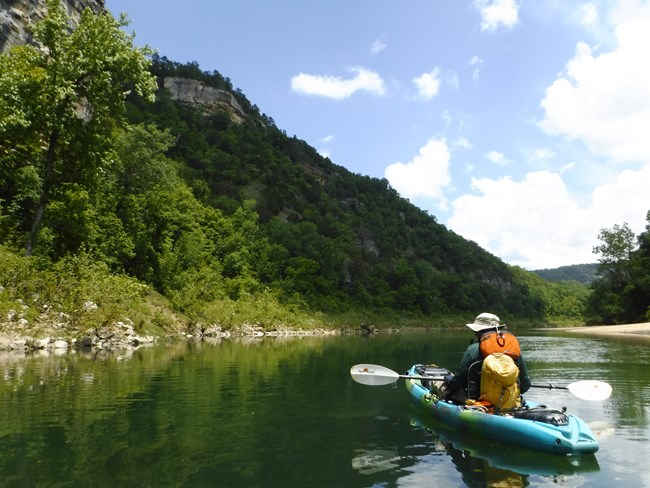 From the Wilderness Act of 1964....
Wilderness is:
"…an area where the earth and its community of life are untrammeled by man, where man himself is a visitor who does not remain."

"…land retaining its primeval character and influence, without permanent improvements or human habitation."

"…affected primarily by the forces of nature, with the imprint of man's work substantially unnoticeable."
Wilderness areas are set aside by our nation's leaders because of their unique opportunities for solitude, mental and physical challenge, and spiritual enrichment. Those who venture into Wilderness must plan ahead and be adequately prepared with appropriate skills and equipment.To preserve the wilderness experience and character, all visitors should be familiar with
Leave No Trace
principles and practice them while traversing Buffalo National River. It is also essential to have a realistic understanding of your abilities before entering Wilderness. See our
Preventative Search & Rescue
page for more helpful information.
Visit our keyboard shortcuts docs for details
Duration:

1 minute, 41 seconds
On August 25, Buffalo National River received the National Park Service Director's 2020 Wes Henry Excellence in Wilderness Stewardship team award. This is the NPS's annual recognition of outstanding contributions to wilderness stewardship, including those involving interpretation and education; management of natural, cultural, and social resources; planning; protection; and maintenance operations.
Last updated: December 2, 2023