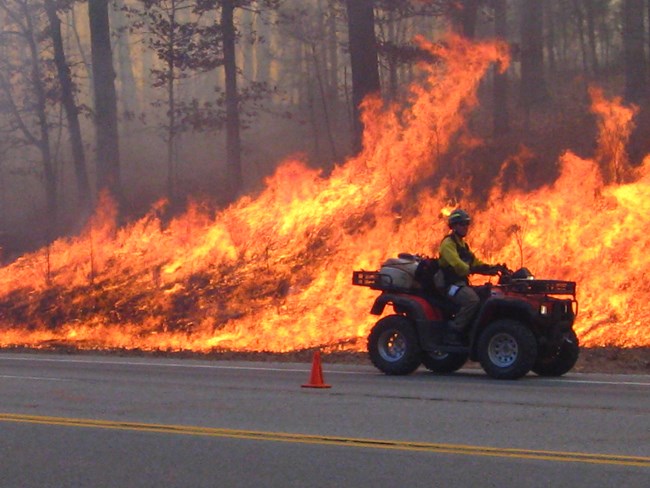 Wildland fire management in the National Park Service is dedicated to safety, science, and resource stewardship. A safe and successful fire management program has many elements that must all work together.
The NPS manages wildland fire to protect the public, communities and infrastructure, and to restore and maintain ecological health. The program manages fire based on the best scientific information and monitors programs to ensure that objectives are being met. NPS fire program managers work in coordination with other natural and resource disciplines and interagency partners to ensure that park resources and values are preserved, protected, and enhanced through the appropriate response to wildfire and the application of fuels treatments.
Fire Management at Buffalo National River
The Buffalo National River Fire crew has big responsibilities. They not only protect this park from wildfire, but they travel throughout the Midwest Region and the nation in support of the National Park Service's fire management priorities. Additionally, the fire crew balances the park's needs with the needs of other agencies. They often work cooperatively and support other organizations such as the US Forest Service, Arkansas Game and Fish Commission, and the US Fish and Wildlife Service.
The Buffalo River prescribed fire program uses management-ignited broadcast burning to restore historic fire regimes within glade, woodland, forest and field areas of Buffalo National River. By restoring parts of the historic fire regime, a variety of beneficial fire effects takes place within the plant communities of Buffalo National River. Equally as important, a reduction in hazardous fuels (dead limbs, leaf litter, pine needles, etc.) occurs. This is just as beneficial to the park because by targeting specific areas and getting rid of dead material, the fire crew minimizes the chances of a severe forest fire decimating portions of the park. Prescribed burns are low intensity fires, and our fire crew tries to mimic natural fire behavior in order to achieve a healthy ecological balance.
The hardworking men and women involved in the park's fire program are instrumental in keeping our forests healthy and protecting park related resources on our public lands.