50th Anniversary Science Symposium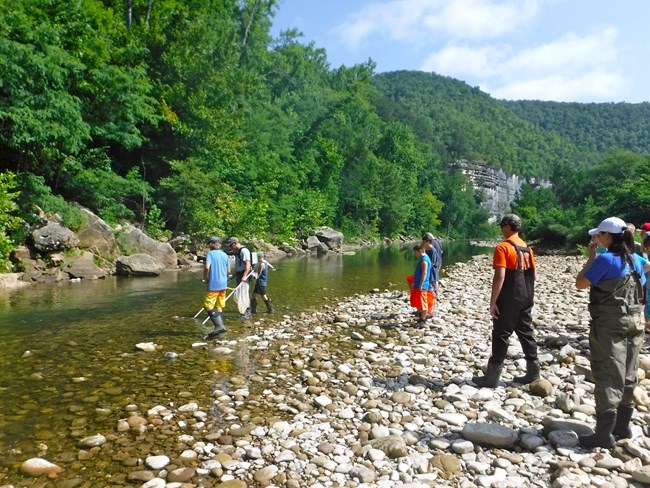 2nd Annual Buffalo National River Science Symposium
To celebrate Buffalo National River's 50th anniversary on March 1, 2022, scientists, researchers, and subject matter experts from across the country are coming together virtually to present the latest discoveries pertaining to natural and cultural resources at Buffalo National River. This virtual event will be free and open to the public.
Meeting link:
https://teams.microsoft.com/l/meetup-join/19%3ameeting_YTQ1ZTIwYzUtNDU1ZC00N2FmLTkxYWUtMTY5NThhNWFkMGIy%40thread.v2/0?context=%7b%22Tid%22%3a%220693b5ba-4b18-4d7b-9341-f32f400a5494%22%2c%22Oid%22%3a%22a4ef40cc-cfbb-4436-9fc4-27c31c3453cf%22%2c%22IsBroadcastMeeting%22%3atrue%7d&btype=a&role=a
Agenda
8:40 – 8:50 – Housekeeping items and meeting lay-out
8:50 – 9:00 – Melissa Trenchik – National Park Service - Welcome and Introduction
Session 1: Terrestrial
9:00 – 9:15 – Dan Drees – National Park Service – Fire Effects Spanning 17 Years at Buffalo National River
9:15 – 9:30 – Dr. Mike Chamberlain – University of Georgia – Population-level Impacts of Chronic Wasting Disease on Arkansas's White-tailed Deer
9:30 –9:45 – Derek Filipek – National Park Service – Riparian Buffer Improvements Along Buffalo National River
9:45 – 10:00 – Dr. David Peterson – Retired Professor- The Arkansas Phosphorus Index – Theory and Practice
10:00 – 10:20 – Q&A for Session 1
10:20 – 10:40 BreakSession 2: Water Quality
10:40 – 10:55 – Dr. Lucas Driver and Billy Justus – US Geological Survey – Preliminary Assessment of Spatial and Temporal Patterns of Nutrients and Filamentous Algae in the Buffalo River, 2018-2021
10:55 – 11:10 – Brie Olsen – Arkansas Department of Environmental Quality – Data Use in the 303(d)/305(b) Process
11:10 – 11:25 – Dr. Brian Haggard and Erin Grantz– Arkansas Water Resource Center – Water Quality Changes and Perspective in the Buffalo National River over the Last Two Decades
11:25 – 11:40 – Anna Pieri – Arkansas State University – Status of Freshwater Mussels in the Buffalo National River: Elevated Nutrients May Be Harming Young Mussels
11:40 – 12:00 – Q&A for Session 2
12:00 – 1:00 LunchSession 3: Watershed
1:00 – 1:15 – Dr. Kayla Sapkota – Cave Research Foundation – Cave Research Foundation at Buffalo National River
1:15 – 1:30 – Chris Bove – Natural Resource Conservation Service – How to Access NRCS' Voluntary Natural Resources Conservation Assistance
1:30 – 1:45 – Tate Wentz – Arkansas Department of Agriculture- Unpaved Roads, Impacts to Water Quality, and the Arkansas Unpaved Road Program
1:45 – 2:00 – Dr. Stephanie Shepherd – Auburn University – The Buffalo National River Rocks! An Overview of Ongoing Geology Research
2:00 – 2:20 – Q&A for Session 3
2:20 – 2:40 BreakSession 4: History and Future
2:40 – 2:55 – Sarah O'Donnell – Osage Nation Historic Preservation Office – Protecting Osage Resources at the Buffalo National River
2:55 – 3:10 – Eden Hemming – Archaeologist for the Osage Nation – Osage Nation and Buffalo National River
3:10 – 3:25 – Casey Johannsen – National Park Service – The Space Above the Buffalo
3:25 – 3: 40 – Q&A for Session 4
3:40 – 3:50 – Mark Foust – Superintendent Buffalo National River – Closing Remarks – The Next 50 Years of Protecting Buffalo
Bios and Abstracts:Session 1: TerrestrialDan Drees:
Title – Fire Effects Spanning 17 years at Buffalo National River
Bio – Dan Drees became the NPS Ozark Highlands fire ecologist in 2009, immediately after retiring from the MO Dept. of Conservation (MDC) where he served in multiple jobs and duties. For several years Dan was the MDC glade and woodland restoration coordinator working with managers to facilitate prescribed burns for a complexity of resource objectives. Dan has participated in the vast majority of BNR fire effects data collection since 2009.
Abstract – The first fire effects monitoring plots at Buffalo National River (BNR) burned in 2004. The same data protocols used to collect pre-burn data from permanent plots, have been used to collect post-burn data from the same plots. Data has been consistently collected the first growing season after each prescribed burn, with some plots having been burned up to 4 times. Results from dry woodland plots show impressive gains in native herbaceous species richness and native herbaceous plant abundance. The results from glade plots show some plots making strong gains while others continue to struggle under the smothering cedar shade. Rare plant scouting in BNR burn units showed plots alone don't tell the whole picture.
Dr. Mike Chamberlain:
Title - Population-level impacts of chronic wasting disease on Arkansas's White-tailed Deer
Bio – Mike Chamberlain is the Terrell Distinguished Professor of Wildlife Ecology and Management at the University of Georgia. He has served on the faculty at UGA for 10 years, after serving in a similar capacity at Louisiana State University for 11 years. Mike received his B.S. degree from Virginia Tech, and his M.S. and Ph.D. degrees from Mississippi State University.
Derek Filipek:
Title – Riparian Buffer Improvements along the Buffalo National River
Bio – Derek Filipek is a Biological Science Technician within the Resource division at the Buffalo National River. At the park, he works on projects related to water quality, terrestrial resources, and GIS/mapping.
Dr. David Peterson:
Title – The Arkansas Phosphorus Index – Theory and Practice
Bio - David received his Ph. D. from Michigan State in 1971. His teaching career included Boise State, the University of Tennessee, and the University of Central Arkansas (1976-2008). His mathematical/research interests have been in musical acoustics and applied math, having been the co-developer of the applied math program at UCA. His avocations include woodworking (musical instruments, puzzles, log cabin construction), stonemasonry, traditional dance, hiking, fishing, and conservation, most recently as the President of the Ozark Society for the last 5 years.
Abstract – Application of phosphorus (P) to pasture beyond agronomic and soil fertility needs wastes a finite worldly resource, is wasted money for farmers, and has proven detrimental to a wide array of water resources. The problem is aggravated by applying manure at maximum nitrate rates, rather than optimal P rates. The 2010 Arkansas Phosphorus Index (API) is a management tool which evaluates the risk of loss of P from pasture and hay fields to aquatic sources. The API uses a 100 point scale with a recommendation of reduced P application when API > 66 and prohibits application when API >100. Although the API formula is a complicated, science based set of multipliers (source x transport x best management multipliers) it is basically a linear model depending on three variables - application rates (AP), soil test P (STP), and the resulting API. It is therefore possible to "reverse engineer" the API to generate application rates to produce a specific API ≤ 66, with the likely target being API = 66 for waste haulers. A mathematical model of this manipulation shows that:
API is stable. That is, application rates AP and soil test levels STP quickly (geometrically) approach equilibrium values APeq and STPeq.
At equilibrium, the loss of P (Ploss) to the environment is:
P
loss
= AP
eq
– Agronomic lossThus, for a fixed agronomic outcome, the higher the API target, the higher the environmental loss.The paper then examines the outcome of this targeting procedure in the Buffalo and similar watersheds, which would and did result in P application rates far in excess of agronomic need. See the graph of actual proposed rates. These results suggest a need for reappraisal of API parameters.
Approximate linear relationship between applied P and soil test P (STP) taking into account variable transport variables. All proposed application rates are high.
Session 2: Water QualityDr. Lucas Driver:
Title – Preliminary Assessment of Spatial and Temporal Patterns of Nutrients and Filamentous Algae in the Buffalo River, 2018-2021
Bio – Dr. Lucas Driver is an ecologist with the USGS Lower Mississippi-Gulf Water Science Center, based in Little Rock. He has been with USGS since 2015.
Abstract – The proliference and harmful effects of filamentous algae blooms and their link to nutrients are of increasing concern in the Buffalo National River. Beginning in 2018, the USGS, in cooperation with multiple state and federal partners, began a multi-year effort to investigate characteristics and patterns of nutrient concentrations and filamentous algae at 12 mainstem sites, 6 spring/spring-fed tributary sites, and 6 gravel-bar piezometer sites along ~70 miles of the Buffalo River. Between 2018 and 2021, concentrations of nitrate and soluble reactive phosphorus (SRP) were relatively much higher in spring-fed tributaries compared to mainstem sites, with mean concentrations of nitrate ~2-10 times higher and SRP ~2-5 times higher than mainsteam sites. In gravel bars, nitrate in hyporheic water was generally similar to mainstream sites, with the exception of one site, whereas means of SRP were 2-3.75 times higher than in the mainstem. Among mainstem sites, nutrient concentrations were generally higher during winter and spring and lower during late-summer and fall, coinciding with filamentous algae blooms. Nitrate at gravel-bar sites showed similar seasonal patterns as mainstem sites, whereas SRP in gravel-bars and nitrate and SRP in spring-fed tributary sites were generally the opposite; higher in late-summer/fall and lower in winter/spring. During annual growing seasons, the percent coverage of filamentous algae ranged from <10% to 80% among site reaches. Dense algal blooms typically occurred at mainstem sites from Tyler Bend downstream to Rush (the lower 35 river miles of the study area) in 2018, 2020, and 2021. Filamentous algae was less prevelant at sites higher in the watershed, with exception of site just downstream of Margaret White Spring which has high groundwater exposure. Periodic stormflows that occurred during the 2019 growing season likely limited filamentous algae via scouring compared to other years.
Brie Olsen:
Title – Data Use in the 303(d)/305(b) Process
Bio – Brie Olsen began her career as an Ecologist at the Division of Environmental Quality in December 2017, where she worked to help build up the Harmful Algal Bloom Response Program and sample waters for use in standard development and assessment. In June 2019, she was promoted to Ecologist Coordinator where she and her team conduct the biennial 303(d)/305(b) Assessment among other duties. Brie is originally from upstate NY and earned a BS in Environmental Science from SUNY
Oneonta and an MS in Fisheries, Aquaculture, and Allied Aquatic Sciences at Auburn University.
Abstract – The Arkansas Division of Environmental Quality (DEQ) – Office of Water Quality is tasked with carrying out Clean Water Act requirements for the state. One of these requirements is to assess waterbodies in the state against their water quality standards. DEQ accepts data from sources across the state and uses the data that meets the quality assurance requirements set forth in the Assessment Methodology. Some of these requirements include sample analysis at a state-accredited lab, samples that are representative of ambient conditions, and sample collection under a Quality Assurance Project Plan (QAPP) or other work plan detailing site selection, sampling distribution, and project purpose. Data that passes the initial quality assurance requirements can be assessed as long as it adheres to quality assurance requirements that are specific to each parameter, but, generally, data for assessment purposes should, at minimum, consist of at least ten data points spread evenly over a 2-year period. Because DEQ strives to use all available data, we will discuss ways that data submitters can collect and communicate the quality assuredness and representativeness of their data for use in assessments.
Dr. Brian Haggard:
Title – Water Quality Changes and Perspective in the Buffalo National River over the Last Two Decades
Bio – Brian Haggard is the director of the Arkansas Water Resources Center and a professor in the Biological and Agricultural Engineering Department with the University of Arkansas System Division of Agriculture. Brian has been with the Division since 2006, and he has served as center director since 2008. Brian has been studying water quality in this region since 1994, and he enjoys exploring local rivers, including BNR, and their watershed with his partner and kids if he can get them outside. During the spring, you will find him chasing smallmouth bass while wading or kayaking.
Bio – Erin Grantz is a program manager with the Arkansas Water Resources Center. Erin has been with the University of Arkansas System Division of Agriculture since 2011 and came to the AWRC as a data analyst and program manager in 2020. She completed a Master of Science degree in Crop, Soil, and Environmental Science at the University of Arkansas in 2010 and is currently working toward a Ph.D. in Environmental Dynamics. Erin's hobbies include exploring the great Arkansas outdoors and family time with her husband and three children.
Abstract – The Arkansas Water Resource Center's study analyzed long-term data (2000–2019) collected in the Buffalo River, its major tributaries, and select springs for potential changes in water quality over time. Water quality variables included nitrate-nitrogen concentration, bacterial indicators, and physiochemical variables, such as conductivity, dissolved oxygen (DO), turbidity, and water temperature. Focusing on the last five years (2015–2019), site medians were also calculated for all variables to characterize typical water quality conditions and were ranked in four groups (quartiles) from least to greatest across sites. Site medians and quartile rankings were also determined for total nitrogen and total phosphorus concentrations, which have only been routinely analyzed at the monitoring sites since 2014. Water quality has not changed at the Buffalo National River over the last twenty years, with no trends detected for 73% of qualifying sites for conductivity, 61% for DO saturation, 67% for E. coli bacteria, 68% for fecal coliform bacteria, 69% for nitrate-nitrogen, 76% for pH, 67% for turbidity, and 76% for water temperature. Sites where water quality was changing tended to cluster in specific watershed areas, or by site type, within the Buffalo River Watershed, suggesting that potential water quality concerns are not system-wide. Site rankings of site medians also showed clustering of the least, mid-range, and greatest magnitudes of water quality variables. Clustering in conductivity and pH, which are influenced by underlying geology, appear to reflect the Boston Mountains-Ozark Highlands transition and increase moving downstream in the watershed. For total nutrients, only the largest 25% of site medians were within the range of thresholds identified for increased risk of nuisance algal response compiled from scientific literature. These values were not observed as medians in the Buffalo River, rather in tributaries and springs in the mid- to lower watershed, correlating with river mainstem locations that have been the focus of nuisance algal complaints in recent years.
Anna Pieri:
Title – Status of Freshwater Mussels in the Buffalo River: Elevated Nutrients May Be Harming Young Mussels
Bio – Anna Pieri is currently a program associate for the University of Arkansas Division of Agriculture and a graduate student in Biology at Arkansas State University. She is a member of the Students United in Preserving, Exploring, and Researching Biodiversity (SUPERB) Scholarship Program. For the past five years, her research efforts have been focused on the conservation of freshwater mussels in Arkansas, Texas, and Mexico. Anna enjoys scuba diving in rivers for mussel sampling because "it is like finding buried treasure!" She grew up on the West Coast and abroad in Costa Rica, which contributed to her fascination with aquatic environments from a very young age. She attended Western Washington University for her undergraduate studies in marine biology where she took up scientific illustration primarily with watercolor and colored pencil.
Abstract – Freshwater mussels are some of the most imperiled taxa in the world with more than 70% considered endangered, threatened or of special concern in North America. These animals are known for their important role in ecosystem health by improving water quality as they filter feed, which also makes them potential indicators of pollution. Mussels in the Buffalo National River (BUFF) were first explored in 1910 by Meek and Clark and declines in the populations have been found in every subsequent survey. Water quality monitoring in the river indicates that nitrogen compounds have been increasing since the 1980s, which is concerning given nitrogen's toxicity to juvenile freshwater mussels. The goal of this study was to help inform conservation management decisions by re-evaluating 12 long-term monitoring sites, re-surveying mussel assemblages over 153-river km and conducting a mussel toxicity field study. Historically, 29 species have been recorded from the BUFF, and our inventory found only 21 species. We found that 9 long-term monitoring sites have decreased in either species richness, relative abundance, or both and one site had been extirpated of all mussels. The most upstream site significantly decreased in total abundance while two far downstream sites significantly increased in total abundance since 2005. The dominant species overall is the Arkansas Brokenray, Lampsilis reeveiana (~25% of total mussels sampled); however, juveniles were less abundant than previously recorded in 2004-2006 for this species and others including the Ouachita Kidneyshell (Ptychobranchus occidentalis) and the Mucket (Actinonaias ligamentina). In our toxicity tests we found that Arkansas Brokenray juvenile growth was affected by temperature and discharge which can influence the concentration of ammonia. Total ammonia and nitrate concentrations at mussel toxicity field sites ranged from 0.086 to 0.615 mg N/L and 0.13 to 1.21 mg/L respectively. Ammonia levels were consistently over the toxicity thresholds for L. reeveiana biomass at North Maumee during June-November 2020. This study has shown mussel populations continue to decline in the BUFF and nutrients, such as ammonia, may be negatively affecting the populations of surviving mussels.
Session 3: Watershed
Dr. Kayla Sapkota:
Title – Cave Research Foundation at Buffalo National River
Bio – Dr. Kayla Sapkota is the Vice-President for the nonprofit Cave Research Foundation (CRF). She has worked on the Buffalo National River project for over a decade, managing field teams, maintaining data for over 700 cave and karst features, and drafting over 200 cave maps for the park during that time. Climbing, crawling, mud, water, and encounters with unexpected wildlife (most recently possums, skunks, and snakes) are all part of the routine. In a parallel life, Dr. Sapkota works at Arkansas State University at Beebe, where she teaches management and economics.
For several decades, the Cave Research Foundation (CRF) has worked with the Buffalo National River to document, conserve, and manage caves on NPS lands. CRF, a national nonprofit organization) works with agencies and private entities across the country to facilitate research, management, and interpretation of cave and karst resources. At the Buffalo National River, CRF conducts biological surveys, maintains digital files, and creates maps of caves. This presentation will include a general discussion of the work and processes in which CRF engages, as well as information on White Nose Syndrome (WNS) and how it has impacted the bats in the park.
Chris Bove:
Title – How to Access NRCS' Voluntary Natural Resource Conservation Assistance
Bio – Chris Bove' is the District Conservationist for the USDA Natural Resources Conservation Service in the Harrison office since March of 2021. He has worked with the NRCS for 18 years in Arkansas, North Carolina, Washington, Colorado, and Wyoming.
Tate Wentz:
Title – Unpaved Roads, Impacts to Water Quality, and the Arkansas Unpaved Road Program
Bio - Tate is a native Arkansawyer and was born and raised in Batesville. He received a Bachelor of Science from Arkansas Tech University in Fisheries and Wildlife Biology and a Master of Science from Arkansas State University in Aquatic Ecology. Tate has spent the last two decades studying Arkansas aquatic ecology and water quality. He has spent time improving water quality resources at the Arkansas Division of Environmental Quality, Arkansas Game and Fish Commission, and now manages the Water Quality Section of Arkansas Department of Agriculture's Natural Resources Division. In this capacity, Tate oversees the state's nonpoint source pollution program,Arkansas Unpaved Roads Program, Arkansas Nutrient Reduction Strategy, and theWetland and Riparian Tax Credit Program. In his free time, Tate is an avid outdoorsman and vegetable gardener.
Dr. Stephanie Shepherd:
Title – The Buffalo River Rocks! An Overview of Ongoing Geology Research
Bio – Dr. Stephanie L. Shepherd is an associate professor in the Dept. of Geosciences at Auburn University. She has been studying the geomorphology of streams in the Ozarks since she was a graduate student at University of Arkansas and has worked in the Buffalo River watershed in collaboration with Dr. Amanda Keen-Zebert for the past ten years.
Abstract – The sedimentary rocks that form the stunning cliffs within the Buffalo River watershed are a primary control on valley form. Understanding the relationship between the rock characteristics, valley width, the presence or absence of river terraces, as well as developing a geochronology of the terraces, is critical to interpreting the geologic history of the southern Ozark Plateaus. Building on the geologic maps created by the U.S. Geological Survey and the Arkansas Geological Society, we have used a range of field, laboratory, and GIS approaches to study temporal and spatial variability of river incision to better understand how the Buffalo River has carved its valley through time.
Session 4: History and FutureSarah O'Donnell:
Title – Protecting Osage Resources at the Buffalo National River
Bio – Sarah O'Donnell serves as the NAPGPRA Coordinator for the Osage Nation Historic Preservation Office. Ms. O'Donnell is an archaeologist experienced in identifying Osage ancestors and cultural resources for repatriation; she serves as a representative for the Osage Nation for consultations regarding repatriation, burial sites protection, and looting/ARPA matters.
Abstract – The Osage Nation's deep history with the Buffalo River area is of paramount importance to the current stewards of the lands and waterways. Today, through consultation and collaboration, the Osage Nation and the Buffalo National River have identified threats to Osage resources within the park. Current historic preservation laws and archaeological practices inform a collaborative approach to preserve and protect both natural and cultural resources at the river.
Eden Hemming:
Title – Osage Nation and Buffalo National River
Bio – Eden Hemming is an archaeologist who combines her experience in archaeology and her interest in justice in service to the Osage Nation. Her archaeological expertise is in lithic analysis, debitage analysis, and low-power microscopic use/wear analysis. She has also worked on teams looking at solutions for place-based issues that negatively affect contemporary communities.
Abstract – The past, present, and future of the Buffalo National River is significant to the Osage. It provided vital physical, spiritual, and cultural resources for Osage ancestors, along with an environment that sustains many of the plants and animals that are important to the Osage way of life. The Osage have a strong interest in protecting Buffalo National River into the future and recognize the need to collaborate with contemporary landowners to achieve that purpose.
Casey Johannsen:
Title – The Space Above the Buffalo
Bio – Casey Johannsen grew up on a small farm in rural Michigan and discovered her love of the National Parks on a college service-learning trip to Acadia National Park. She was fortunate enough to start her National Park Service career at Acadia in 2003. She then moved to sunny South Texas to work at Amistad National Recreation Area. In 2011 she and her husband decided to leave the desert behind and headed for the beautiful waters of Buffalo National River. Casey is thoroughly enjoying her time in the Natural State and raising her son in the Ozarks.
Abstract – Buffalo National River is situated as an island of natural darkness within the Ozarks, but our dark night skies are becoming increasingly more fragile with ever-increasing sources of light pollution. Dark skies are necessary for healthy ecosystems, our own human health, and shared cultural experiences. To have a truly preserved river and park means we must also have a preserved night sky, or we risk altering the very natural resources and processes that the park was established to protect. Learn how the park gained status as an International Dark Sky Park in 2019 and how the park continues to monitor the space above the Buffalo.
Mark Foust:
Title – Closing Remarks – The Next 50 Years of Protecting the Buffalo
Bio – Born and raised in the National Park Service as the son and grandson of career NPS employees, Mark has been a public servant for 37 years. While earning his BS in Resource Science from the University of California at Davis, Mark started his career as a firefighter in California. Having married into a family with deep connections to the Ozarks (Mark and his wife Lori's kids are the 7th generation to live in the Ozarks), they are proud to finally call the Buffalo their home. Mark has been the superintendent at Buffalo National River since July 2018. He previously served 4-1/2 years as superintendent of Dinosaur National Monument in Colorado/Utah and before that he was the chief ranger of Glacier National Park in Montana for 8 years. Mark's life and career with the NPS has taken him all over the country. When not working on their place, you will find Mark hiking, running, riding, floating, and hunting in and around the Buffalo River watershed. Water and wilderness have been grounding principles in Mark's career, with the rivers and wilds of Buffalo, Dinosaur, and Glacier fulfilling the stuff of dreams.
Last updated: February 28, 2022