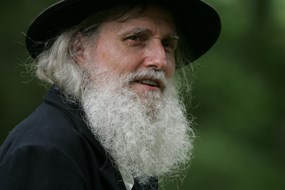 Portrayal of John Brown by Kerry Altenbernd.
April 17, 2011
3:00 p.m.
Free, reservations recommended
The Civil War officially began on April 12, 1861, when confederate artillery opened fire on Fort Sumter, South Carolina. But the strife between North and South had already turned bloody in Kansas in the 1850s. The battle of Black Jack near Baldwin City on June 2, 1856, marked the first armed clash between opposing sides.
Kerry Altenbernd, portraying the abolitionist John Brown, will tell the history of the battle of Black Jack, how it fit into Brown's life story, and its place in his war on slavery. Afterwards, Mr. Altenbernd will bring the story of the battle of Black Jack up to date, discussing its effect on American history. He will also discuss current preservation activities for the battlefield and plans for the Black Jack Battlefield and Nature Park.
After the passage of the Kansas-Nebraska Act in 1854, Brown traveled to Kansas Territory with the goal of keeping Kansas free of slavery. Once there, he led a group of men who killed pro-slavery settlers during the Pottawatomie Massacre, engaged in several battles, and participated in raids into Missouri to free enslaved African Americans and escort them to Canada.
Altenbernd is a third generation native of Douglas County, Kansas. For a number of years he has worked to preserve the Black Jack Battlefield, and has been a member of the Board of Trustees of the Black Jack Battlefield Trust since its creation in 2003. He currently serves as on-site tour coordinator for the Black Jack Battlefield and Nature park, and is actively involved with the Freedom's Frontier National Heritage Area. He has been performing first-person interpretations of John Brown since 2006.
To RSVP by April 15, call the Brown Foundation at (785) 235-3939 or email by clicking here. Free and open to the public, Sunday, April 17, 3:00 p.m. at Brown v. Board of Education National Historic Site, 1515 SE Monroe Street, Topeka, Kansas 66612.