<em>The Palmer Memorial Institute</em>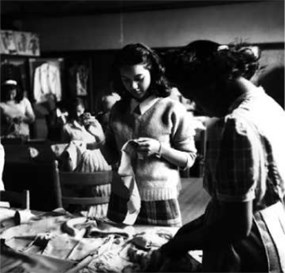 The Palmer Memorial Institute is a traveling exhibition of documentary photographs and audio from the Center for Documentary Studies at Duke University. The Palmer Memorial Institute was an African American preparatory school attended by more than 1,000 students from 1902 until it closed in 1971.
The exhibition includes black-and-white photographs of student life at Palmer Memorial Institute, circa 1947, by Griff Davis, an accomplished African American photojournalist whose work appeared in the New York Times, Atlanta Daily World, Ebony, Time, Fortune, and Negro Digest. Davis's work depicts an often-neglected piece of American history — that of middle and upper middle class African Americans.
The exhibit also includes Davis's 1947 Ebony magazine spread on PMI, text panels, and an audio documentary including interviews with Palmer Memorial Institute graduates.
The exhibition provides the opportunity for dialogue about segregation in education, black women's leadership and business development, the complexity of economic and educational standing of African Americans in the South during the Jim Crow era, and educational institutions' roles in developing strategies for economic success for African Americans, among other topics.
Charlotte Hawkins Brown (1883–1961) was born in Henderson, North Carolina, and raised and educated in Massachusetts. Brown named the Alice Freeman Palmer Memorial Institute (PMI) in Sedalia, North Carolina, after her mentor and benefactor, the second woman president of Wellesley College. Brown's reputation grew nationally as she raised funds to expand campus facilities and worked to strengthen PMI's artistic and scholarly offerings, and through her efforts, the school evolved from an agricultural and manual training facility to a fully accredited, nationally recognized African American preparatory school. In 1987 the Charlotte Hawkins Brown Museum opened on the PMI grounds as North Carolina's first African American state historic site.
Free and open to the public daily, April 1 to May 31, 2010, 9:00 a.m. to 5:00 p.m., at Brown v. Board of Education National Historic Site, 1515 SE Monroe Street, Topeka, Kansas, 66612. For more information, call (785) 354-4273 or send an email by clicking here.
Last updated: April 10, 2015