57th Anniversary of Brown v. Board of Education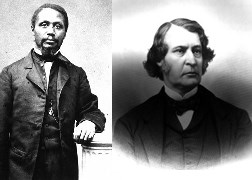 To be announced.
On May 17, 2011, we will observe the 57th anniversary of the landmark U.S. Supreme Court decision in Brown v. Board of Education. Our theme, "Commemorating Our Nation's Struggle for Freedom: From Civil War to Civil Rights," reminds us that the Brown decision was part of an historic continuum that pre-dates the Civil War.
The campaign to end racial segregation in public schools began in Boston, Massachusetts. The state had abolished slavery in 1755; however, education for African Americans continued to be mostly segregated within the state. By 1840, growing concern about racially segregated schools led to efforts by African American parents to shut down the segregated schools. Their final effort was undertaken in 1849, with the leadership of attorneys Robert Morris, one of the nation's first African American lawyers, and co-counsel Charles Sumner, who went on to become a United States senator from Massachusetts. Their case became known as Roberts v. the City of Boston. This case represents pre-Civil War initiatives on the part of African Americans to secure equal educational opportunity for their children.
The Roberts case was not successful because authorities reasoned that special provisions had been made for "colored" students to have a school Support for their efforts finally came from city officials when, in April 1855, a bill was presented and passed by the Massachusetts legislature that addressed the issue at hand. The legislative action stated that no distinction based on color, race, or religion should be made for any student applying for admission to any public school in the state. And so the road to Brown v. Board of Education began.
For more information, call the Brown Foundation at (785) 235-3939 or email by clicking here.
Last updated: April 10, 2015