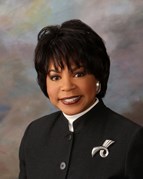 May 11, 2010
The National Park Service has appointed Cheryl M. Brown Henderson, founder and long-time President and Chief Executive Officer of the non-profit Brown Foundation for Educational Equity, Excellence and Research, as the next Superintendent of the Brown v. Board of Education National Historic Site in Topeka, Kansas. She replaces Dennis A. Vasquez, who served as Superintendent for 5 years before transferring to Washington, D.C., in August 2009. Brown Henderson's tenure at the park begins June 6, 2010.
"Cheryl Brown Henderson was instrumental in developing the concept of and the actual designation of the Monroe Elementary School as the Brown v. Board of Education National Historic Site, and her strong communication skills and proven ability to work with a wide variety of constituency groups affiliated with the Brown story will be great assets at the site," said Ernest Quintana, the National Park Service's director for the 13-state Midwest Region. "She has an enviable record of building community support for this park at the local, regional, and national levels, and understands the importance of engaging all stakeholders," he added.
Brown Henderson said of this new opportunity, "Because Brown v. Board of Education is a living decision that continues to influence how we live in a diverse society, I look forward to creating greater awareness of this historic site and to expanding our educational outreach. Our story is taught in classrooms from elementary school to graduate school."
In 1972, Brown Henderson began her professional career as a 6th Grade Classroom Teacher with the Topeka Public Schools. Her first teaching assignment was at Monroe Elementary School, now preserved as the Brown v. Board of Education National Historic Site. She also taught 6th grade at Avondale East Elementary School before becoming a Guidance Counselor and Parent Educator for the school system in 1976.
From 1979 to 1994, Brown Henderson served as an Educational Program Specialist for the Kansas Department of Education. She assumed responsibility for coordinating gender equity programs across the State at the secondary, post secondary, and graduate levels, which included administering Federal funds to promote the enrollment of women and girls in programs not considered traditional for female students. Brown Henderson also developed programs to better acquaint educators and educational administrators with the legal and social implications of working to insure women and girls access to vocational training opportunities previously provided only to male students. She also planned and sponsored statewide educational conferences and conducted presentations nationally on various aspects of vocational education.
Brown Henderson founded the principal partner for the park, The Brown Foundation, in October 1988 to further the tenants of the Brown v. Board of Education decision by initiating, implementing, and supporting educational programs that invest in children, enhance multi-cultural understanding, increase literacy among children from low-income communities, increase the pool of minority teachers for classrooms across the nation, develop curriculum resources to enhance the teaching of Brown v. Board of Education in the context of the Civil Rights Movement, produce exhibits and gather oral histories to illustrate the detailed history of Brown v. Board of Education in the context of the African American experience in the United States, and convene conferences and conduct presentations that foster the value and acceptance of racial, ethnic, and cultural diversity.
Brown Henderson earned her Bachelor of Science Degree in Education, with a minor in Mathematics, through Baker University in Baldwin City, Kansas. She went on to earn her Masters of Science in Guidance and Counseling from Emporia State University in Emporia, Kansas. Brown Henderson also holds an Honorary Doctorate of Human Letters from Washburn University in Topeka.
Brown Henderson has received countless awards and recognition for her work to preserve the legacy of the Brown decision. Her articles and essays about the Brown decision have been published in several books. She has also written curriculum guides and has lectured in the classrooms on more than 200 university campuses and in 2001 delivered a talk about the Brown decision while traveling in South Africa.
As a member of the namesake family and President and CEO of The Brown Foundation, Brown Henderson served on and provided invaluable direction to the 2003/2004 Brown v. Board of Education 50th Anniversary Presidential Commission. She has served on numerous civic and philanthropic boards and foundations, as well as the boards of the Kansas State Historical Society and the National Trust for Historic Preservation. Brown Henderson has also testified before the U.S. House of Representatives and the United States Senate on women's issues and the Brown v. Board of Education decision.
Brown Henderson has been a guest at White House receptions and dinners on numerous occasions, honoring Dr. King and the Children of Civil Rights Movement (Jan. 1994); the 75th Anniversary, U.S. Department of Labor, Women's Bureau (May 1995); the 49th Anniversary of Brown v. Board of Education (May 2003); the 40th Anniversary of the Civil Rights Act (June 2004); African American History Month (Feb. 2005); and African American Gospel Music Month (June 2005).
Brown v. Board of Education National Historic Site was established by Congress on October 26, 1992, to commemorate the 1954 landmark Supreme Court decision that ended segregation in public schools. The site, which was dedicated on May 17, 2004, and opened to the public, interprets the integral role of the Brown v. Board of Education case in the Civil Rights Movement from Reconstruction to the present day.