Youth Leadership Academy Council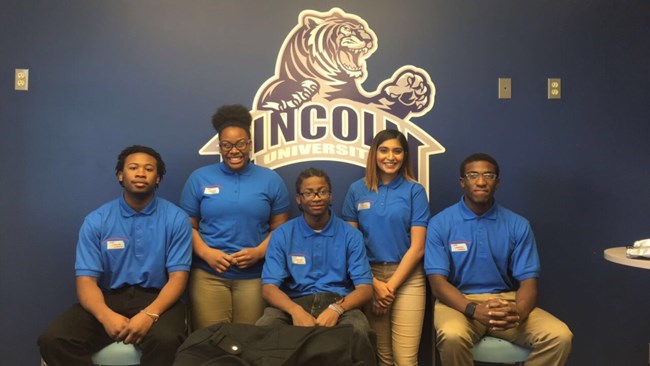 Our Youth Leadership Academy was founded at the Brown v. Board of Education National Historic Site during the fall of 2013 with three student participants. In just a three year span, the program has seen tremendous growth because of its laudable feats and professional development of youth. Forty-six high school students applied for the program during the 2016- 2017 academic year, and only a few will be selected for the academic year of 2017-2018.

This past year's Youth Leadership Academy agenda was compacted with rigorous expectations and challenging projects. All of which offered various competencies in educational and professional development, and assisted our YLA members in preparation for the next phase of life, which for our seniors, was post-secondary education.

We coordinated a leadership lecture series, where each month, students were afforded the opportunity to hear from a myriad of thriving leaders from the Kansas and Missouri area to avail student's skills, practical knowledge and professional contacts as they venture into their post-secondary careers.

In addition to our leadership lecture series, students were tasked with presenting on matters of interest to them and their peers at Topeka's City Council meetings, facilitating dialogue over the school-to-prison-pipeline in the United States and developing public presentation skills through speaking engagements and community volunteer opportunities. Additionally, students were granted premier access to various leadership seminars that availed them literary competencies for the sake of composing and developing college essay statements. These seminars were aimed at ensuring students maintain the leadership skills they acquire.

YLA students were presented with the task of completing a career shadow in a field of interest to them as another means of professional development. After satisfying this element of YLA, students developed a clear understanding of what is expected of them to enter such a profession, build their resume by having gained experience in the field and if nothing else acquire a professional contact that could very well serve as a reference later down the road.

In addition to their mandatory civic engagement, volunteerism and service learning projects, students were afforded the opportunity to visit universities and scholarship fairs throughout the year. One trip that really seemed to be a highlight for the YLA members this past year, was our college visit and campus tour of Lincoln University in Jefferson City, MO.

While we will not duplicate the exact program for the school year of 2017-2018, any student selected, will be sure to gain professional and personal development that will prove beneficial in years to come. Should you have any concerns and or questions, students, school administrators and or parents should contact our Youth Leadership Academy Coordinator, Mynesha Spencer at (785) 354-4273 X240.
Apply Here!
Last updated: September 14, 2017