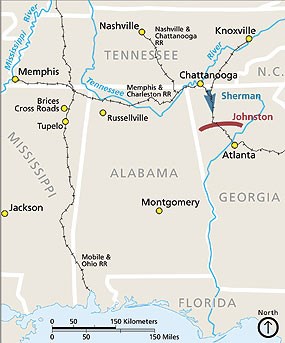 In 1863 Federal armies won important victories at Vicksburg, Gettysburg, and Chattanooga. In the spring of 1864 the Federal mission was to bisect the South from Chattanooga, Tennessee, to the Atlantic coast at Savannah, Georgia. Maj. Gen. William T. Sherman wanted to destroy the Confederate Army led by Gen. Joseph E. Johnston and occupy Atlanta along the way as he executed his "March to the Sea."
Sherman knew that his plan was vulnerable. To supply his large troop movement into north Georgia, he depended on the Nashville & Chattanooga Railroad. This line could be most threatened by the excellent horseman of Confederate Maj. Gen. Nathan Bedford Forrest's cavalry corp. Sherman needed to keep Forrest in north Mississippi.
On June 1 Forrest put his 3,500 horsemen in motion at Tupelo, headed for Tennessee. By June 4 they had reached Russellville, Alabama. Meanwhile, a concerned Sherman ordered Brig. Gen. Samuel D. Sturgis and a force of 8,100 to move out of Memphis and threaten north Mississippi in hopes of drawing Forrest away from Sherman's much needed railroad in Tennessee. It worked! Forrest was ordered by Maj. Gen. Stephen D. Lee to return to Tupelo. On the evening of June 9, Forrest learned that Sturgis's forces were camped about 10 miles northwest of Brices Cross Roads. Both commanders knew that the next day would bring battle.