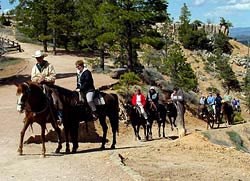 Guided Horse and Mule Rides
Looking for an exciting way to view Bryce Canyon? How about from the back of a horse? In spring, summer and fall, Canyon Trail Rides wranglers lead 2-hour and 4-hour horse and mule rides into Bryce Amphitheater along a dedicated horse trail and the Peek-a-boo Loop Trail.
For information, visit their web site at www.canyonrides.com. For reservations, write or call Canyon Trail Rides, P.O. Box 128, Tropic, UT 84776, 435/679-8665.
Private Stock Use/
Revised Rules Letter - Effective 4/18/17 (PDF 1.09 MB)
Private Horse Map (PDF 9.81 MB)
Web Revised Equestrian Rules Analysis Decision (PDF 204 KB)
Press Release (PDF 169 KB)