Ranger Guided Activities

RANGER PROGRAMS
Why are the rocks red? What is a hoodoo? The magic of Bryce Canyon inspires countless questions. Spend a few minutes or a few hours with us as we share fascinating facts about your national park, from "How Hoodoos Happen" to the wonders of the night sky. Ranger programs are free and are a great way to expand your knowledge of Bryce Canyon.
We have something for everyone year-round. Check our Ranger Program board in the park's Visitor Center for current programs, locations, and times.
Beginning late spring through October, Ranger Program schedules are available online. You may view or download a representative program schedule by clicking
here
.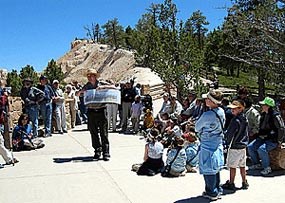 GEOLOGY TALKS
When: Daily - Year-round
Where: Sunset Point (Summer) or Visitor Center Auditorium (Winter)
Duration: ½ hr.
Geologists have spent years studying the unique story of Bryce Canyon. Join the Ranger as we discuss the current scientific explanation behind Bryce Canyon's unique geologic history from ancient lakes to the power of erosion. Stop by the visitor center for current information. No reservations needed.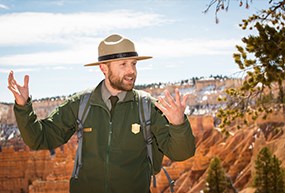 RIM WALK
When: Daily - Spring, Summer & Fall
Where: Sunset Point
Duration: 1½ hrs. - 1 mile Roundtrip
Great views, fascinating plant and wildlife stories, a touch of geology and a wealth of cultural history - what more could you ask for? Join a park ranger for an overview of Bryce Canyon as you stroll along the rim of the Main Amphitheater. No reservations are required.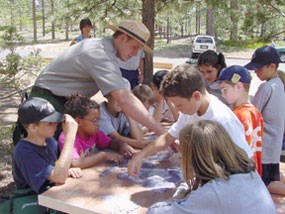 KIDS PROGRAMS
When: Almost Daily - Summer
Where: High Plateaus Institute
Duration: 1 hr.
All of Bryce Canyon's ranger programs are family friendly, but these in particular are fun for kids and parents alike. Rangers present a wide range of programs appealing to a variety of interests. Check at the visitor center for program topic and age requirements. Children must be accompanied by an adult. No reservations required.
EVENING PROGRAMS
When: Varies - See Program Schedule or Visitor Center
Where: Varies
Duration: 1 hr.
Evening programs offer an in-depth look at some of the compelling stories and interesting resources that Bryce Canyon National Park protects. Check at the Visitor Center for topics, start times, and locations.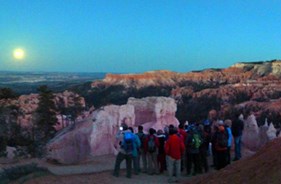 FULL MOON HIKES
When: Full Moon nights
Where: Lotteries held at 4 PM at Visitor Center (Winter) and Bryce Canyon Lodge Auditorium (Summer)
Duration: 1-2 miles, 2-3 hours
Join one of Bryce Canyon's "Night Sky Rangers" for a nocturnal adventure. These highly popular hikes are only offered during the full moon. Flashlights are prohibited and "lug traction" footwear is required. Click Here for more information.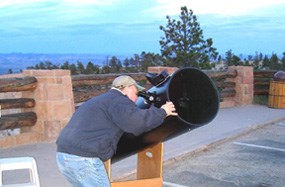 ASTRONOMY PROGRAMS
When:
Varies, Click Photo for More Information
Where: Varies, Check at Visitor Center
Duration: 1 hr. Multimedia Presentation + Stargazing with Telescopes
Join a park ranger for a celebration of Bryce Canyon's unparalleled night skies. Explore the stories of the constellations, track the motions of stars and planets, gaze at distant galaxies, and more!
more...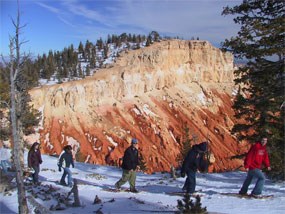 SNOWSHOE HIKES
When: Winter (when snow depth & staffing allow)
Where: Sign-up at Visitor Center
Duration: 1½ - 2½ hrs. 1-2 miles, moderately strenuous
Winters at Bryce offer views of a sparkling wonderland under a crystal blue sky, plenty of solitude, and most years, enough snow for snowshoeing! Accompany a park ranger for a snowshoe hike and we will supply the snowshoes! Learn about the winter ecology of our park and how hoodoos are the product of the winter struggle between ice and sun. More information about Winter Activities.


Last updated: February 21, 2019