Bryce Canyon National Park Public Health Update
Bryce Canyon Offers Full Park Access with COVID-19 Precautions in Place
The National Park Service (NPS) is working service-wide with federal, state, and local public health authorities to closely monitor the COVID-19 pandemic. Please read below for more information on current park operations.
Federal Mask Mandate
Masks are required for everyone, regardless of location or vaccination status, in all NPS buildings, crowded outdoor spaces, and all forms of enclosed public transportation. Additional details are available at www.nps.gov/coronavirus.
Please note that masks are also still required for all passengers on the free park shuttle.
Reservations?
No reservations or advanced tickets are required to enter this park or to ride the free park shuttle. Visit our fees and passes page for more information on on admission prices.
Current Park Information
Check the Alerts page for temporary closures, which will not be reflected below.
Key Areas and Services that visitors currently have access to:
All regularly open roads, trails, and viewpoints. Check website alerts section for any deviations. In the backcountry the Agua Canyon Connecting Trail remains closed.

Visitor Center and NHA bookstore: outdoor and indoor operations from 8 a.m. to 4:30 p.m.

In the Bryce Amphitheater area, restrooms are available at Sunset Point (24 hrs), North Campground (24 hrs), and the Visitor Center (8 a.m. to 4:30 p.m.)

Along the southern Scenic Drive, restrooms are available at Farview and Rainbow Points (24 hrs)

North Campground is open for first-come-first-serve-camping.

Backcountry camping permits are available from 9 a.m. to 3:30 p.m. at the Visitor Center

Fee booths are currently open and collecting fees / inspecting park passes
Consider buying your park admission in advance by visiting recreation.gov/pass

Early bird gets the worm: sunrise and early mornings before 10 a.m. are a great time to visit and find less visitors along trails and at popular overlooks.

Take a scenic drive (when not closed after a snowstorm) to the southern end of the park during the busiest times between 10 a.m. - 3 p.m. and enjoy some of the quieter overlooks and picnic areas. Visitors are encouraged to drive the entire 18-mile scenic drive to Rainbow Point and work their way back to the park entrance so that all overlooks will be on your right-hand (east) side of the road.

Use the Shared-use Path! By parking at the Additional Visitor Center Parking Lot or the Bryce Canyon City Shuttle Station you can use the park's Shared-use path to access popular viewpoints and trails.

Be prepared for the weather! Check a current forecast at our Current Conditions page.

The free park shuttle when running, is the best way to get around the park. See the park's most popular area without worrying where to park by leaving your car at the shuttle station in Bryce Canyon City and boarding the bus. Last day of shuttle operations is October 17th.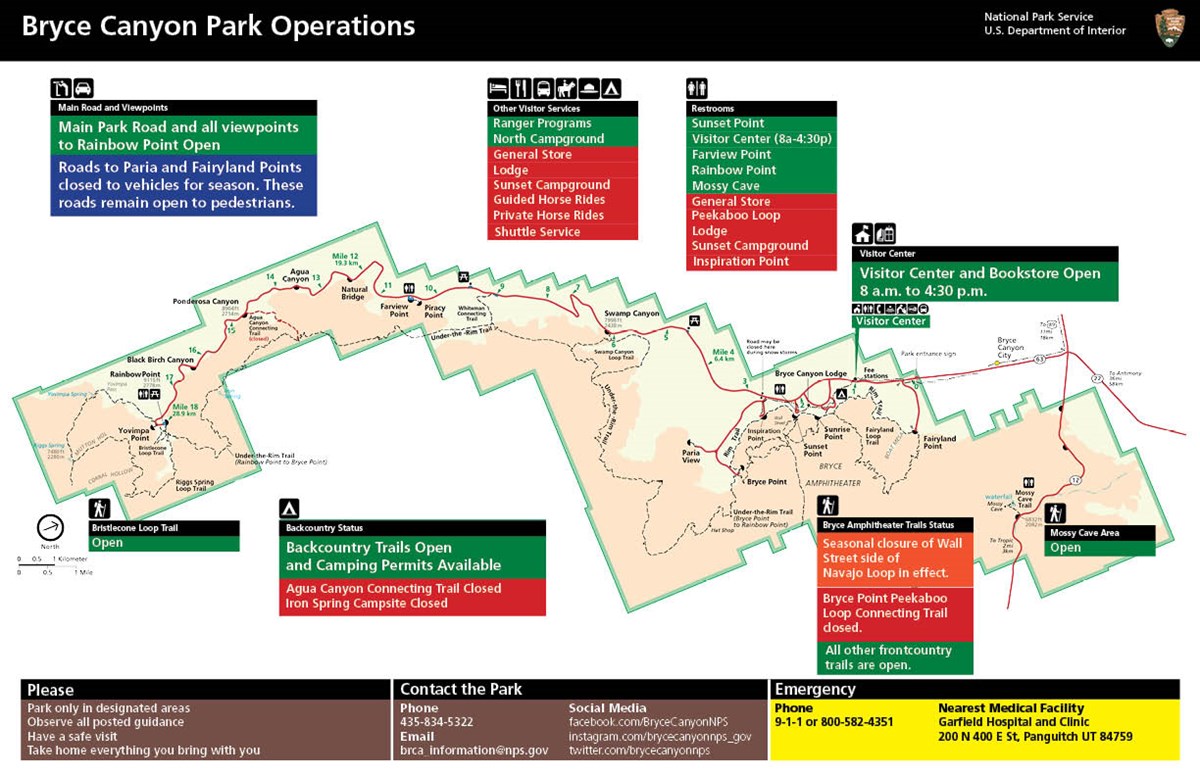 Current Bryce Canyon Operations
Recreate Responsibly
When recreating, park visitors should follow all posted guidance. Park staff will continue to monitor all park functions to ensure that visitors adhere to CDC guidance for mitigating risks associated with the transmission of COVID-19 and take any additional steps necessary to protect public health.
Keep it with you.
If you brought it, take it with you. Trash pickup and restroom facilities are limited in many park areas. Follow Leave No Trace principles.
Know your limits.
Bryce Canyon National Park has an unfortunately busy search and rescue operation. Many of these incidents could be avoided with visitors planning and making responsible decisions. Winter-like conditions exist in north-facing shaded areas of the park. It is critical to make wise choices to keep our national park rangers and first responders out of harm's way.
More tips on how to Recreate Responsibly in your national parks
Last updated: November 29, 2021