Bryce Canyon National Park Public Health Update
Bryce Canyon Offers Full Park Access with COVID-19 Precautions in Place.
Following the guidance of state and local public health authorities, Bryce Canyon is increasing recreational access and services. The National Park Service (NPS) is working service-wide with federal, state, and local public health authorities to closely monitor the COVID-19 pandemic and using a phased approach to increase access on a park-by-park basis.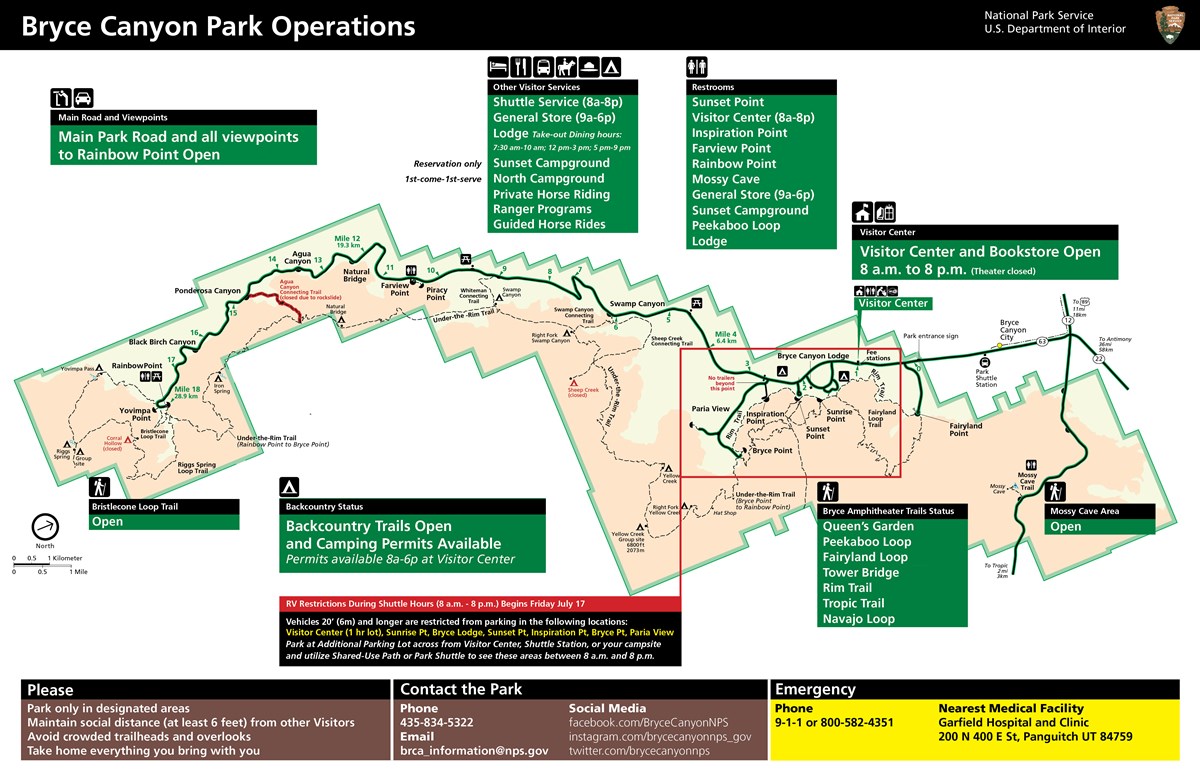 Current Park Information
Key Areas and Services that visitors currently have access to:
RV Restrictions (Begin July 17): Vehicles 20' (6m) and longer are restricted from parking in the following Bryce Amphitheater locations:
Visitor Center (1 hr lot), Sunrise Pt, Bryce Lodge, Sunset Pt, Inspiration Pt, Bryce Pt, Paria View
Park at Additional Parking Lot across from Visitor Center, Shuttle Station, or your campsite and utilize Shared-Use Path or Park Shuttle to see these areas between 8 a.m. and 8 p.m.
The free park shuttle has resumed and will run from 8 a.m. to 8 p.m. daily in the Bryce Amphitheater; the Rainbow Bus Tour is not operating at this time; RVs are strongly encouraged to park at the shuttle station and utilize this service or the Shared Use Path. Parking is limited and congested parking lots may experience short-term closures at peak times. Current modifications to regular shuttle operations include:

Shuttle capacity is limited to 20 passengers at one time
Enter and exit through rear doors only (to accomodate plexiglass barrier installed for driver safety)
Visitor groups will be asked to sit together to maintain social distance from other groups
Passengers are asked to self-screen for symptoms posted on all busses, and to not ride if experiencing them
Free face masks will be available to all passengers
Current shuttle operations run from 8 a.m. to 8 p.m.--check your stop for the last bus time of the day

All roads, trails, and viewpoints
Visitor Center and NHA bookstore: outdoor and indoor operations from 8 a.m. to 8 p.m. The theater remains closed, and in accordance with regional public health guidance on group gatherings, indoor visitor occupancy will be limited for retail or restroom access only
In the Bryce Amphitheater area, restrooms are available at Sunset Point (24 hrs), Inspiration Point (24 hrs)

Along the southern Scenic Drive, restrooms are available at Farview and Rainbow Points (24 hrs)

Mossy Cave parking, restroom, and trail area
Sunset Campground is to the public for camping by reservation only—visit www.recreation.gov for reservation information; North Campground is open for first-come-first-serve-camping.
Backcountry camping permits are available from 8 a.m. to 6 p.m. at the Visitor Center
The General Store and its restrooms are open from 9 a.m. to 6 p.m. showers and laundry service are open from 9 a.m. to 5:30 p.m.
The Lodge at Bryce Canyon is providing overnight lodging at take-out dining; breakfast 7:30 a.m. - 10 a.m., lunch 12 p.m. - 3 p.m., and dinner 5 p.m. - 9 p.m.
Fee booths are currently open and collecting fees / inspecting park passes
See standard schedule below and visit the Calendar page for additional programs, program details, and how to sign up.
Social distancing markers will be in place at program locations and enforced by rangers. Masks are strongly recommended.
| | | | |
| --- | --- | --- | --- |
| Days | Time | Length | Program |
| Daily | 11 a.m. | 20 min | Hoodoo Geology Talk at Sunset Point |
| Daily | 1 p.m. | 20 min | Hoodoo Geology Talk at Sunset Point |
| Daily | 2 p.m. | 20 min | Hoodoo Geology Talk at Sunset Point |
| Daily | 12:30 p.m. | 20 min | Grand Staircase Talk at Yovimpa Point |
| Daily | 1:30 p.m. | 20 min | Grand Staircase Talk at Yovimpa Point |
| Daily | 9:00 p.m. | 45 min | Evening Programs* |
| Wed-Sat | 9:30 p.m. - 10:30p.m. | 15 min | Constellation Tours at Visitor Center* |

*Requires advance sign-up; visit the Ranger Information Tent at Visitor Center same-day beginning at 8 a.m. until capacity is full (96 total visitors); tours occur at 9:30 p.m., 10:00 p.m., and 10:30 p.m. Note that this program will be superseded in the event of a Full Moon Hike.
2020 Summer Festivals
The Annual Bryce Canyon Astronomy Festival for June 2020 is cancelled, however the park will make every effort to still provide dark sky programs starting in July. If feasible the park will consider hosting Dark Sky Star Parties this late summer and early fall. Please check back in late July for more information.
The Annual Bryce Canyon Geology Festival for July 2020 is cancelled, however the park will make every effort to still provide daily geology programs starting in late June. If feasible the park will consider hosting special geology events this late summer and early fall. Please check back in late July for more information.
Consider buying your park admission in advance by visiting recreation.gov/pass
Early bird gets the worm: sunrise and early mornings before 10 a.m. are a great time to visit and find less visitors along trails and at popular overlooks.
Enjoy Bryce Canyon's Shared Use Path! Just beyond the park entrance, Bryce Canyon City offers plenty of vehicle parking. From there it's only a 4-mile bike ride or walk to the Bryce Amphitheater.
Park in less busy areas. For example, consider an easy 15 minute walk or even quicker bike ride from the park Visitor Center to Sunrise Point on the rim. Park in the Additional Parking area across from the Visitor Center and enjoy the quiet, forested scenery along the Shared Use Path.
Take a scenic drive to the southern end of the park during the busiest times between 10 a.m. - 3 p.m. and enjoy some of the quieter overlooks and picnic areas. Visitors are encouraged to drive the entire 18-mile scenic drive to Rainbow Point and work their way back to the park entrance so that all overlooks will be on your right-hand (east) side of the road.
There is plenty of daylight this time of year, consider visiting between 5 p.m. - 8 p.m. and capture the last of the day's light. Great for dramatic photos of the Bryce Amphitheater.
Be prepared for the weather! Check a current forecast at our Current Conditions page.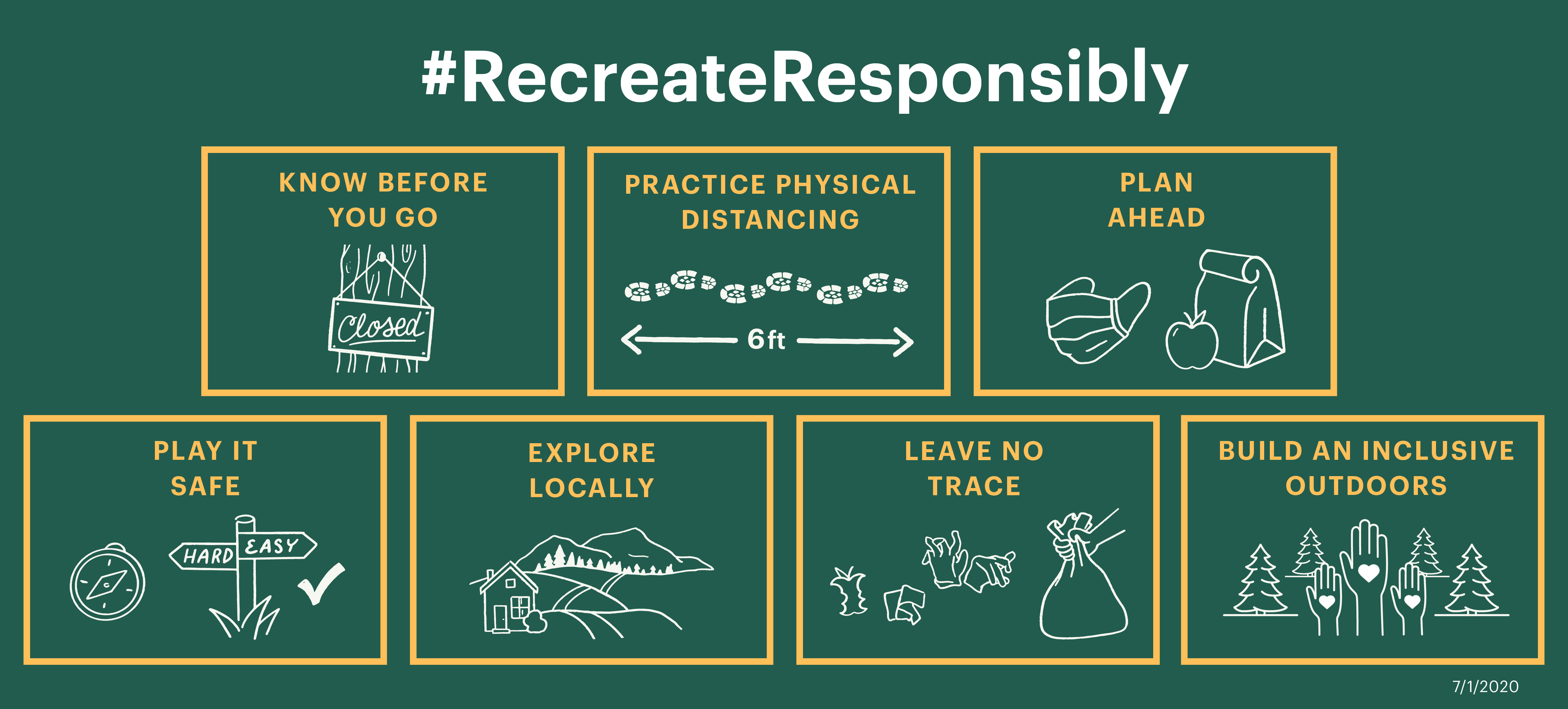 Recreate Responsibly
While the listed areas are accessible for visitors to enjoy, a return to full operations will continue to be phased, and services may be limited. When recreating, please follow local area health orders, practice Leave No Trace principles, and avoid crowding and high-risk outdoor activities.
The CDC has offered guidance to help people recreating in parks and open spaces prevent the spread of infectious diseases. We will continue to monitor all park functions to ensure that visitors adhere to CDC guidance for mitigating risks associated with the transmission of COVID-19 and take any additional steps necessary to protect public health.
Know before you go. Visit NPS.gov/findapark for current park conditions and availability of restrooms and other facilities. Make a plan, follow the 10 Essentials, and if you are sick, stay home.
Keep it close. Follow the state and county orders governing the open status of the area you're considering visiting. The National Park Service is working closely with governors and state and local health departments as we increase access and services across the National Park System.
Keep your distance. Recreate with the people in your household. Give others plenty of room whether you are on a trail, at a boat launch, or in a parking lot. Follow the CDC social distancing guidelines for staying six feet away from others. Be prepared to cover your nose and mouth if you're near others.
Know your limits. Postpone challenging hikes or trying new activities while first responders, parks, and communities continue to concentrate on responding to the pandemic.
Keep it with you. If you brought it, take it with you. Trash pickup and restroom facilities will continue to be limited in many park areas . Follow Leave No Trace principles.
Visitor and Resource Protection Rangers are conducting regular and targeted patrols to enforce closures and park regulations
Title 36 of the Code of Federal Regulations authorizes a maximum fine of $5,000 and up to six months in prison for misdemeanor violations.
National Park Service Public Health Service Officers Recommend that Everyone Should Take the Following Routine Precautions:
Wash your hands often with soap and water for at least 20 seconds. If soap and water are not available, use >60% alcohol-based hand sanitizer.
Avoid touching your eyes, nose, and mouth with unwashed hands.
Avoid close contact with people who are sick.
When you cough or sneeze, cover your mouth and nose with a tissue, or do so into your elbow. Dispose of the tissue and wash your hands again.
In the office, keep 6 feet of separation between yourself and others to reduce the potential spread of infection.
Use virtual tools instead of holding in-person meetings.
Clean and disinfect frequently touched objects and surfaces.
Most important, if you experience flu symptoms or any serious infection or virus, please stay home to avoid exposing others.

More tips on how to Recreate Responsibly in your national parks.
Last updated: September 9, 2020