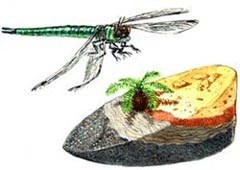 Name: Master Leopold Bigbugh
Genus: Meganeura
Size: 3 ft. wingspan, 1 ft in length
Age: 50
Gender: male
Weight: 1 lb.
Diet: insects
Habitat: swamps
Skills: forensics and research
Education: M.S. in Geology, M.S in Chemistry
Expertise: Rocks and Minerals
Hobbies: Collecting Rocks and Minerals
Scanner is a potted Cycad which Leopold lets root momentarily in the soil to tell him what rocks and mineral are present.