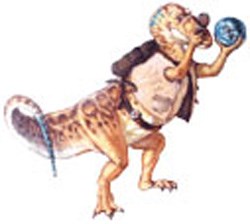 Name: Professor Allister Holmes McFragilis
Genus: Allosaurus
Size: 40 feet long, 14 feet high
Age: 50
Gender: male
Weight: 10,000 lb (4,500 kilos)
Diet: Meat
Habitat: Open Countryside
Skills: logic and problem solving
Education: PhD in Geology and PhD in Criminology
Expertise: Recruiting and Team Management
Hobbies: Rock Hunting and Reading
Professor Allister Holmes McFragilis doesn't like his name very much and would prefer to be called Indiana Bones. He is the fearless leader of the GEODETECTIVE crew. Although he has a commanding presence, like most geniuses, he can be rather scatterbrained.
He is on a quest to find the latest geologic facts and bring them to the world no matter where he has to go to discover them.