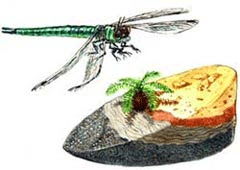 THE SWEET TASTE OF A SUGAR ROCK CYCLE
Summary:
Rocks exist in three phases and change from one phase to another according to the types of mechanical and chemical stresses to which they are exposed. Using common table sugar, students will see how rocks change from one rock type to another when submitted to these different stresses.
Instructional Method:
Demonstration
Goal:
Show students how rock properties change from rock type to rock type due to different processes.
Objectives:
Students will be able to:
Diagram the rock cycle
Label the stresses used to cause change between each rock type
Time:
30 minutes
Materials Needed:
Sugar cubes
Granulated sugar
Popsicle sticks
Paper cups
Heat source
Pan to melt the sugar
Water
Spray bottle
Printable rock cycle diagram
Vocabulary:
erosion
heat
igneous
metamorphic
pressure
sedimentary
transport
Background:
All rocks are connected in a cycle of creation, change, and destruction called the Rock Cycle. The rock cycle begins with molten rock (magma below ground, lava above ground), which cools and hardens to form igneous rock. Exposure to weathering and erosional forces, break the original rock into smaller pieces. The smaller material (now called sediment) is carried away by rivers, wind, glaciers, and other means and is eventually deposited elsewhere. These sediments can then be buried and lithified (hardened), forming sedimentary rock.
Sedimentary rock can be deeply buried, subjected to heat and pressure, which over time, cause it to change its structure into a new rock, a metamorphic rock. Metamorphism is a big word meaning change. Eventually, these metamorphic rocks may be heated to the point where they again melt into magma.
Note that the rock cycle doesn't always have to work in this order; sometimes igneous rocks can be buried and metamorphosed, skipping the sedimentary rock phase, and sometimes sedimentary and metamorphic rocks can be uplifted and eroded to form new sedimentary rocks. It is also possible for rocks to remain unchanged in stable regions for long periods of time.
Rocks cycle through three rock types: igneous, metamorphic and sedimentary. The three rock types are connected through processes of erosion, pressure, heating and/or melting.
Sedimentary rocks form when sediments worn from other rocks are cemented together.
Metamorphic rocks form by altering the chemistry, mineralogy, or texture of rocks through extreme pressure and/or heat over a long period of time.
Igneous rocks form by cooling molten rock in the form of magma or lava.