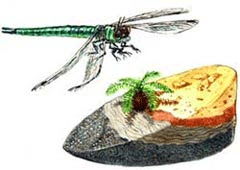 LIMESTONE, SANDSTONE AND SHALE, OH MY!
Summary:
Sedimentary rock is one of the three main rock types. It is formed by weathering, erosion and lithification. Students will learn to differentiate between limestone, sandstone, and shale according to the physical characteristics of the rock.
Instructional Method:
Experiment
Goal:
Introduce students to sedimentary rocks, how they form, the different types and how to identify them.
Objectives:
Students will be able to:
Define clastic and carbonate sedimentary rocks in their own words.
Separate random sedimentary rocks into their correct rock type.
List the tests used to identify each rock type
Time:
30 minute setup
30 minute activity
10 minute cleanup
Materials Needed:
Pieces of rock: Conglomerate, sandstone, shale, limestone
Paper
Weak acid (vinegar)
Rubber gloves
Goggles
Magnifying glass
Printable rock cycle diagram
Vocabulary:
| | | | |
| --- | --- | --- | --- |
| chert | erosion | sandstone | stalactite |
| clastic | limestone | sediment | stalagmite |
| compaction | lithified | sedimentary rock | texture |
| conglomerate | matrix | shale | weathering |
| dolostone | precipitate | siltstone | |