An Old Virginia Christmas on December 7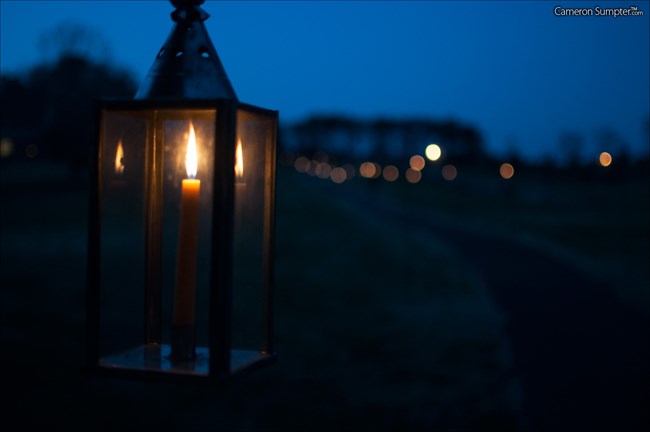 On Saturday, December 7, from 3:00 p.m. to 8:00 p.m., Booker T. Washington National Monument will have its annual "An Old Virginia Christmas" Event. J
oin the park staff and volunteers of the Booker T. Washington National Monument Living History Guild for this special event. Dr. Booker T. Washington, one of the most influential African Americans at the turn of the 20th century, wrote about his memories of Christmas in his article, "Christmas Days in Old Virginia," written for Suburban Life in 1907.
Booker T. Washington described Christmas in the mid-nineteenth century as he remembered it. He wrote that Christmas in Virginia was the "great event of the whole year to the slaves throughout the South." Why would Booker T. Washington write this about Christmas or "the Big Times" as the slaves called it? He wrote "because it was the season when, in many cases, the slaves who had been hired out to other masters came home to visit their families. Perhaps the husband had been away from his wife for twelve months; he was permitted on Christmas to come home. Perhaps children had been hired out in another part of the state, or another part of the country, away from their mothers for six to twelve months; they were permitted to come home at Christmas." He described that during the holidays the enslaved family members would find out who would be "hired out" to neighboring farmers and which ones would be sold. Washington wrote, "It was an important period in many ways, but the feeling of joy at the reunion of the family prevailed above all others."
Come to this FREE, family and community event and take part in the following activities:
Children's Program from 3:00 p.m. – 4:00 p.m.
Bring your child or grandchild to learn about the animals on the farm
Living History Interpretive Programs at 4, 5, 6 &7 p.m. (Schedule subject to change based on attendance)
Watch and listen in on conversations between the free, slave-owning Burroughs family and Hales Ford citizens about significant events that took place locally and nationally during the period Booker T. Washington lived on the tobacco plantation between 1856 and 1865. Learn the traditions the enslaved carried out during the "Big Times" and participate in one of their favorites while standing near a warm hearth and surrounded by the ambiance of the kitchen cabin. Living History volunteers will be available for questions and conversation after programs.
Musical Entertainment and Refreshments
Old-time Holiday music will be performed between living history performances and light refreshments of gingerbread, hot apple cider, and coffee will be provided.
Last updated: November 5, 2019