Places
Most of the sites in our park are located on the Freedom Trail. Through time, national patriotism and search for American identity have turned sites such as Old North Church, USS Constitution and Bunker Hill Monument into icons.
It is the power of place, when one stands upon these grounds, that makes us realize the importance of these history-making events. It is humbling to stand in the room where Frederick Douglass spoke, or on the soil where over 5,000 men fought in the bloodiest battle of the American Revolution. You, too, can visit the place where George Washington and his army witnessed its first victory.
These historical icons inspire not only Americans, but people around the world, as their themes resonate for all of humanity.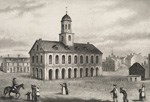 .


Last updated: March 2, 2016