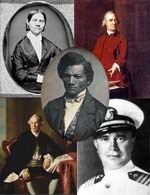 The people connected to Boston National Historical Park are the famous and almost unknown, but all have contributed in the fight to obtain and retain rights and freedoms.
Many Americans remember American Revolutionary visionaries John and Samuel Adams, but may have forgotten black revolutionary hero Salem Poor or Joseph Warren, who lost his life at the Battle of Bunker Hill. Scores of people flock to Bunker Hill to photograph the monument there, but few realize that Sarah Josepha Hale is largely responsible for raising funds to build the monument.

The people who contributed to the success of the Charlestown Navy Yard included some 50,000 during World War II, including over 8,000 women. Allan Rohan Crite, the renowned African-American painter, worked as a draftsman and technical illustrator for many years in the yard.
All of these people, and countless others, have had a part in shaping our nation's history.
=====================================================================================