Education Programs
Education programs at Bunker Hill
The Bunker Hill Monument provides students with the opportunity to experience an historic site that played a significant role in our nation's early history. Boston National Historical Park offers educational programs that integrate the history of the Battle of Bunker Hill with current Massachusetts curriculum standards. National Park Rangers lead dynamic, interactive programs that utilize geography and archaeology to enhance student understanding of the many components that contributed to the Battle of Bunker Hill.
Bunker Hill Educational programs are:
-Free of charge
-Led by National Park Service Rangers
-Conducted in conjunction with a visit to the Bunker Hill Monument
-Thirty or forty-five minutes in length
-Located at the Bunker Hill Museum
-Designed to accommodate 60 students
-Require Reservations*
*To make reservations for any of these programs, send an e-mail. You can also call (617) 242-5689 and leave a message. We will get back to you as soon as we are able.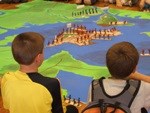 Mapping the Battle: Exploring the role of Geography in the Battle of Bunker Hill
- Grades 3-8
- Offered mornings, Tuesday through Friday
- 25-30 minute activity sessions

Students use a large floor map to learn about the changes in the geography of Boston, Charlestown and Cambridge from 1775 to today in this thirty minute program. The large map provides students with a bird's eye view of this area illustrating the development of bridges, roadways and vast areas of landfill. Challenged to think strategically about the geographical impacts on the Battle of Bunker Hill, students manipulate tactile objects placed on and around the map to reinforce the topics introduced in a Ranger led discussion.
Education Programs at the Charlestown Navy Yard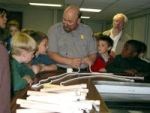 .
Twisted Strands: Simple Machines and Rope Making
- Grades 3, 4, and 5, class size up to 25 students
- Offered Mornings, Tuesday through Friday
- 2 Hour Session

With the integration of science and history in Twisted Strands, the park provides special preparation materials for this program.

How much rope does a ship need? What simple machines help make rope? How did the Charlestown Navy Yard make rope for the entire U.S. Navy from 1800 to 1950s? Join a park ranger to explore 19th century rope making innovations at the Charlestown Navy Yard. Pre-visit materials will introduce students to the ropewalk operation and its role in making rope for the entire U.S. Navy. During their visit the students will make rope using simple machines and search for other simple machines on board the USS Cassin Young, a World War II destroyer ship.
Last updated: March 22, 2019