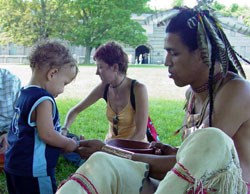 Completing the Circle: Weaving Past, Present and Future into Story
2008 Native American Youth Summer Media Institute
Northeast Native American communities have a long and rich connection to the Boston Harbor Islands. For many communities, the islands represent a place of survival, ceremony, feasts, and daily life. A major goal of Boston Harbor Islands National Park Area is to increase awareness of the history and lifeways of Native communities and provide further opportunities for reconnection.
The theme of "completing the circle" will connect youth with the many ways we tell stories. The goal is to better understand ourselves, our connection to our communities, and the world as a whole. Workshops include instruction in finger weaving, beading, tool-making, song and dance. Through daily video production training, youth learn how to use cameras, microphones, and editing equipment to transform story into a medium that can be preserved and shared with a wider audience and across generations.
Instructors include elders and mentors from surrounding tribal communities who lead workshops and storytelling lessons. Native American youth between the ages of 14 and 18 should apply.