Deer Island Native American Memorial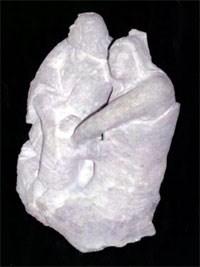 Land set aside on Deer Island will soon be home to a new memorial. The Native American Memorial will commemorate and celebrate the Native American history of the Boston Harbor. The complex and often painful history of Native Americans and Deer Island holds great meaning and power for the descendants of the original inhabitants of the region. The goals of this memorial are to tell the story of Native Americans on the island in the context of King Phillip's War (1675-76); celebrate the survival of Native American customs and cultures; and reflect upon the iconography and landscape of the tribes of the Northeast.

The memorial will be built at the Massachusetts Water Resources Authority's (MWRA) water treatment facility at Deer Island, which incorporates a park and 5-miles of walkways around the perimeter of the island with spectacular views of the City of Boston and the other harbor islands.

A national artist search led to the selection of the artist Lloyd Gray–Nessatako (Light As A Feather), Mohawk Iroquois of the Onondaga People. The initial phase of the project is funded by The Edward Ingersoll Browne Trust Fund of the City of Boston with support from the MWRA. A model of the proposed sculpture can be seen above.
Additional information about the Native American Memorial can be found on the official website of the
Nipmuc Nation
.
Last updated: February 26, 2015