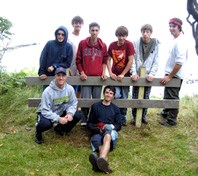 Protect Forts, Trails, and Beaches
Park mangers welcome individuals, families, corporate, community, and youth groups to help protect the park's natural and cultural resources. Individuals and families participate in events like COASTSWEEP in September and Park Serve Day in April. Watch bostonharborislands.org for opportunities.

Groups
The park offers regular opportunities for small groups to volunteer; larger groups can design their own event. Projects are geared to adults, though many tasks are appropriate for high-school age youth. Please take a moment to review the information below. Then, choose a target date, tell us about your group and send an email to our volunteer coordinator.