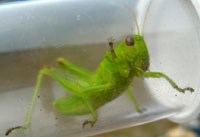 Volunteers Work With Scientists on a Very Ambitious Inventory
The Boston Harbor Islands Partnership and the Harvard Museum of Comparative Zoology are working on an inventory of the insect and other invertebrate species that inhabit the "micro-wilderness" of the islands. Scientists and naturalists are needed to assist in this All Taxa Biodiversity Inventory (ATBI). Volunteer Citizen Scientists can help in the field or the lab to identify the myriad of species we are collecting.
If you are a scientist or naturalist interested finding out more about how you can help, contact us.