Revolution in the Air Winter Lecture Series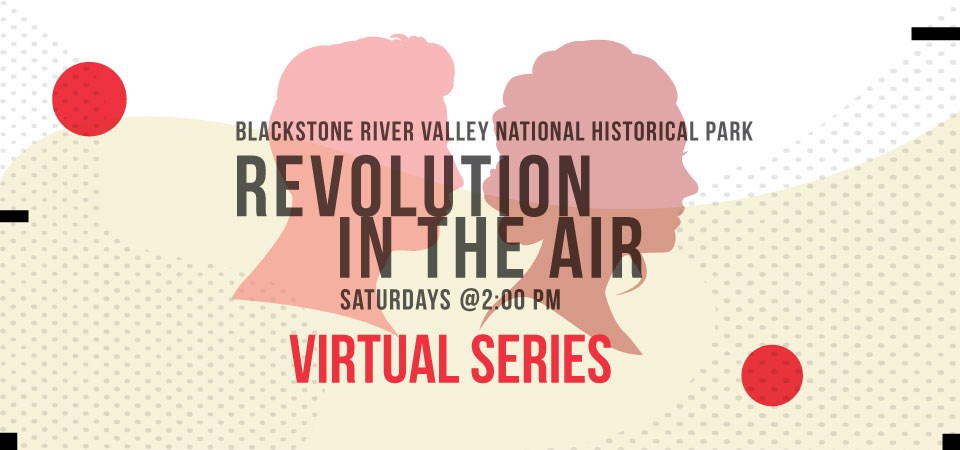 Blackstone River Valley National Historical Park and Blackstone River Valley National Heritage Corridor present our Winter Lecture Series - "Revolution in the Air." This six-part series investigates how the Blackstone River Valley has served as an incubator of revolutionary thought and change. Scholars and park staff will lead presentations on a variety of topics including labor reform, ethnic religion and politics, the cotton economy, and architecture. Presentations are every other Saturday, beginning January 23rd, at 2:00 PM. Presentations will be followed by a Question and Answer session. The program is free and open to all. Registration is required! If you have any questions or concerns, contact Ranger Mark Mello at mark_mello@nps.gov
Please click here to register for as many lectures as you would like to attend.
Read below to learn more about each week's topics.
January 23, 2021 - STRIKE! Hopedale 1913
Allison Horrocks and Mark Mello, Park Rangers, Blackstone River Valley NHP

In 1913, workers at the Draper Corporation in Hopedale, MA went on strike. Many in the local community were shocked that such a bold demonstration could happen in their backyard.
Decades earlier, the Drapers had started their manufacturing empire in Hopedale, a communal experiment founded by idealistic Practical Christians. Although much of the commune's idealism faded after the community dissolved in 1856, the Drapers were long heralded for their investment in Hopedale. Some saw the Drapers' housing, parks, and other projects as proof that Hopedale was a shining example of paternalism. But underneath this veneer, a conflict was brewing between management and workers. Particularly as more immigrants were recruited to work in Hopedale (and live in Milford) there was also a widening gulf between the highest and lowest paid at Draper Corporation. Join Rangers Allison Horrocks and Mark Mello to discuss the strike that changed the town of Hopedale. Together, we'll explore an era filled with tensions relevant to our world today.

February 6, 2021 - Slavery, Abolition, and the Rise of Industrial Capitalism
Dr. Manisha Sinha, Professor, University of Connecticut

This talk will examine the relationship between slavery and industrial capitalism and the abolitionist critique of that relationship. It will illustrate that the abolition of slavery was an uphill task precisely because slavery was embedded in the nation's political economy. Slavery did not divide the north and south economically as is commonly supposed but gave the two sections complementary economic interests.
February 20, 2021 - King Midas's Curse
Andrew Schnetzer, Park Ranger, New Bedford Whaling NHP

In 1793, the beams and rafters of Slater Mill were assembled to make America's first industrial building where cotton was delicately spun. That same year, the very first bricks of Monticello were being laid in a confirmation of America's agrarian empire. Everything this two-headed beast touched turned to gold. Join Ranger Andy Schnetzer as he explores the architectural relationship between Slater Mill and Monticello.
March 6, 2021 - Ethnic Politics and the Catholic Church in Rhode Island
Dr. Evelyn Sterne, Professor, University of Rhode Island

By the turn of the twentieth century, Catholics comprised more than half Rhode Island's population but still faced discrimination at the workplace and the polls. As Catholic immigrants organized to assert their rights, they found that their parishes were the most important and accessible institutions in their communities and functioned quite naturally as political organizing spaces. Parishes served as places where Catholics forged alliances, traded information, discussed problems and organized for change.
March 20, 2021 - Was there "One Best Way"?
Dr. Jane Lancaster, Independant Historian

Efficiency experts in the early twentieth century suggested that there was only one way to increase worker productivity, a "one best way" imposed on the workers by "experts." This was, naturally, resisted by many of the workers. In this talk, Dr. Jane Lancaster will explain how one of those experts, Dr. Lillian Moller Gilbreth, used insights gained from her doctorate in educational psychology at Brown to modify the idea that there was only one best way to work and by so doing encourage workers to follow the new methods. Lillian Gilbreth is best remembered now as the mother of a large family celebrated in Cheaper by the Dozen but in her long lifetime (she died in 1972 aged 94) she was famous for her work in government, with people with disabilities, with the Girl Scouts, and in mentoring a whole generation of female engineers.
April 3, 2021 - Cotton River-lution: The Blackstone's Role in the Booming New England Cotton Economy
Allison Meyette, AmeriCorps VISTA, Blackstone River Valley NHP

The Blackstone River runs for 48 miles, beginning in Worcester, MA and terminating under the Main Street Bridge in Pawtucket, RI. America's cotton industry may have begun with Samuel Slater's thread-spinning mill on the Pawtucket banks of the Blackstone, but it was the rapidly exponential boom of textile mills creeping northward that truly indicated the rise of a revolution. "America's hardest-working river" carried that were strikingly modern - including transportation of people and products, refining the textile industry, and indications of the aftermath of great success: in other words, the Blackstone River itself showcases the rise, height, and fall of its Valley's entire central industry.
Last updated: January 5, 2021