Winter Recreation on the Parkway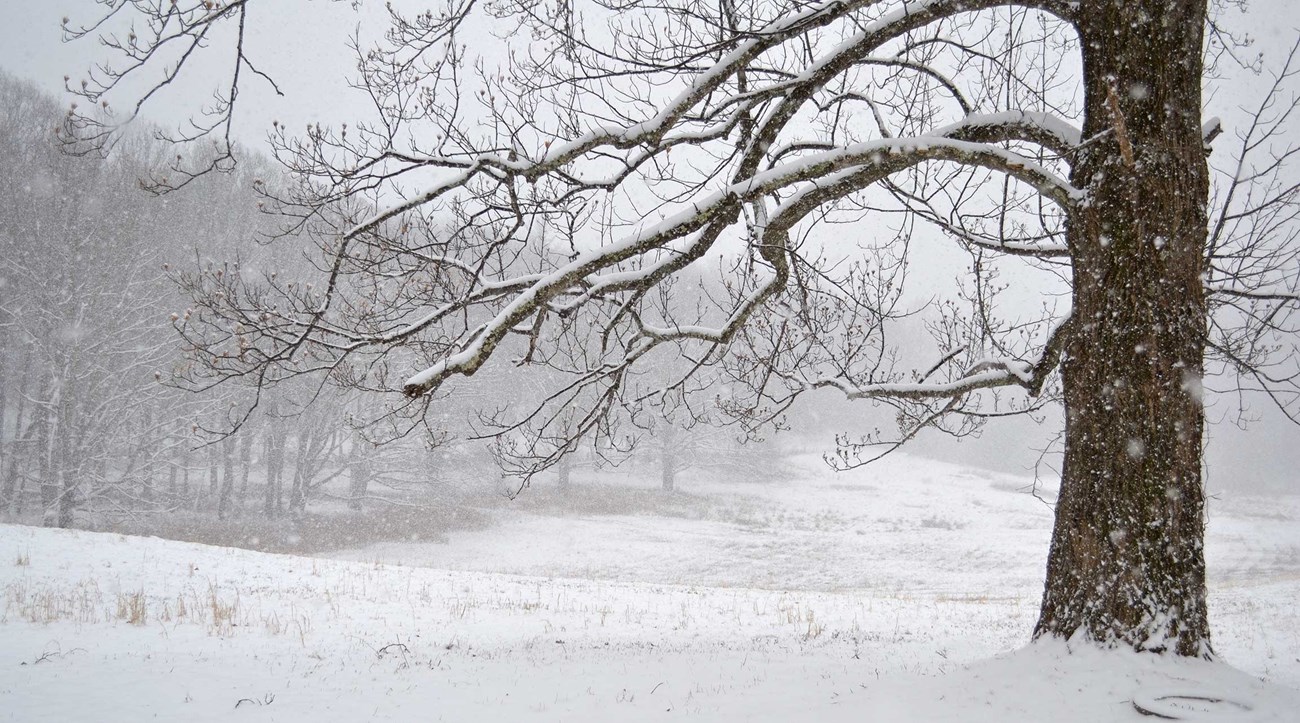 Behind the Gates in Winter
Winter is a beautiful season on the parkway. With frequent road closures due to winter weather, the experience, for those who choose to venture beyond closed road gates, is one of quiet contemplation. The parkway provides a variety of opportunities this time of year—for those prepared to face the elements.
Know Before You Go
Although sections of the 469-mile parkway are often closed to motor vehicles in winter due to snow and ice on the roadway, there are frequently days when the Parkway may be open from end to end due to unseasonably warm temperatures. Whether your goal is to drive or cross country ski the parkway, it is important to know the road status before you make a trip.
The most up to date road information can be found on the parkway's Road and Facilities Closure Page, which details gate to gate closures. Additional information regarding road closures and winter weather events can often be found on the Blue Ridge Parkway Facebook page at www.facebook.com/blueridgenps
Winter Recreational Opportunities
In all seasons of year, the parkway is more than just a beautiful drive. There are numerous recreational opportunities available. In the winter, the parkway offers opportunities to enjoy traditional winter activities, and even some that are not so traditional.
Behind the closed gates of a winter road closure, parkway visitors can enjoy popular winter pastimes such as sledding, cross country skiing, snowshoeing and snow play. For the more adventurous, the parkway is a premier destination for ice climbing in the southern United States, where the parkway's lofty heights provide for the extended cold temperatures needed to make the activity safe when the surrounding areas are often too warm to provide such an opportunity.
Hiking
During most winter weather closures, park hiking trails are generally open to the public. While access to trailheads that lead to high peaks like Craggy Pinnacle and Devils Courthouse are often a long and difficult trek due to their distance from the closest road crossing, many lower elevation trails are great options in winter. Often trailheads, especially to long trails such as the Mountains to Sea Trail or the Appalachian Trail, are accessible from the parkway "on ramps", which are accessible even during road closures. Be sure not to block the gates in case of emergency! More information about hiking.
A parkway closed to cars offers the unique opportunity for hikers to enjoy a hike on the roadway itself. This gives a chance to enjoy the solitude and quiet of the roadway without vehicle traffic—including walking through and photographing tunnels and enjoying roadside vistas in peace.
Winter Wildlife Viewing
Winter on the parkway can be a wonderful time to view all types of wildlife and their tracks, especially when parkway gates are closed. Many of the parkway's animal residents are active year round and are more likely to be seen along the roadside when the gates are closed. Freshly fallen snow provides a fresh "canvas" for animal tracks, and a search for these treasures can be a wonderful activity with children as you discover a hidden world.
Birders will also find winter superior in many ways as the leafless trees and shrubs of the forest allow for excellent line of sight, making birds and other wildlife easier to see. Don't forget your binoculars!
Winter Safety
Weather on the parkway can be unpredictable so it is important to plan accordingly for all trips on the parkway. Dress in layers and brings rain/wind protection to ensure that you stay comfortable.
Remember these safety tips:
Be prepared and plan for changing weather.
Stay off frozen bodies of water.
Expect delayed response times, especially on closed road sections.
Cell phones do not work from many areas in the park. Leave an itinerary with someone at home.
Remain aware, parkway road crews may be working in your area.
Don't block the gates when accessing the parkway during winter closures.
Last updated: January 7, 2022