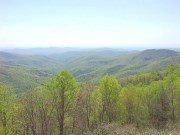 The Parkway winds 469 miles along the crests of the Southern Appalachians providing seemingly endless views of many parallel ranges connected by cross ranges and scattered hills. Beginning in Virginia the Parkway follows the Blue Ridge Mountains for the first 355 miles. Then it skirts the southern end of the massive Black Mountains, named for the dark green spruce and fir that cover them, weaves through the Craggies, the Pisgahs, the Balsams, and ends in the Great Smokies.
Growing on over 70,000 acres of the Parkway are forests of varying age and type. Spruce-fir forests at the highest elevations are more typical of forests found hundreds of miles to the north. In the moist coves and hollows at mid- to low-elevations are mixed hardwoods of the cove hardwood forests. And in the driest, hottest sites can be found the oak-pine forests.
A variety of wetland types are found on the Parkway including southern Appalachian bog, high elevation seeps, swamp-forest bog complex, and bottomland (floodplain) forest. The southern Appalachian bog in particular is unique. Within the southeastern U.S. these increasingly rare wetlands support more species of rare, threatened and endangered species than all other types wetlands combined. Among some of the rarer species that are found within these unique habitats are the bog turtle, Gray's lily, large cranberry, and Cuthbert's turtlehead.