R Getty Browning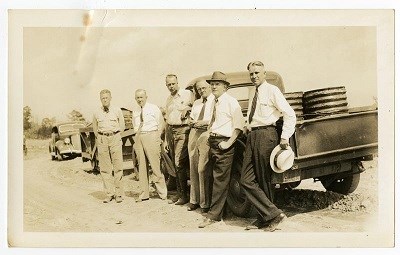 R. Getty Browning was the Federal Parkway Engineer and the Senior Locating and Claim Engineer for the Blue Ridge Parkway. It was his work that guided the initial exploration and design of the parkway.
He trekked the ridgelines of the Blue Ridge to find the optimum route and it is Browning who made the recommendations to Stanley Abbott and to the engineers regarding the geography and the view-sheds and ultimately was called to Washington where he presented a persuasive argument to Harold Ickes for what became the route of the Blue Ridge Parkway. It was Browning's maps that were given to the Secretary of the Interior in 1934 as preparation for the Parkway planning and which acted as the catalyst for the acceptance of the Blue Ridge Parkway plan.
Later, in one of the many trips to western North Carolina made by Ickes and by Arno Cammerer, his assistant, it was Browning who was called on to escort the dignitaries on planned trips to the Blue Ridge Parkway construction sites and to the surrounding mountains. Browning knew his western North Carolina geography, as he had spent countless hours walking the route that would later become the parkway. Fred Weede describes a mapping trip that Browning led for those who were promoting the new parkway.
A native of Maryland, Getty started his career as a surveyor. He worked in West Virginia as a bridge surveyor and for the railroad and then back to Maryland for the Maryland Roads Commission which was centered in Baltimore.. He came to North Carolina in 1920 to work for the newly formed Highway Commission in that state and stayed for the remainder of his career. He became the chief location and claim engineer for the North Carolina Commission and was responsible for many highways within the state, including the Blue Ridge Parkway.
A resident of Durham, North Carolina, Browning moved to Raleigh in 1925 when he was promoted to the position of director of the Location and Right of Way department for the Highway Commission.He was a significant contributor to the war effort and was charged to assist the Navy in development of a large munitions plant. He also played a key role in the production of tankers used in the war effort. As one travels on the Blue Ridge Parkway and arrives at Milepost 451.2, a plaque that honors Browning and his work on the Blue Ridge will be found. If the traveler looks up at the peaks near the city of Waynesville, North Carolina, they will see a high peak of some 6,000 feet. This is Browning Knob, named for the indefatigable mountain lover, R. Getty Browning.
Text from University Of North Carolina Asheville Special Collections and University Archives.
Last updated: April 14, 2015