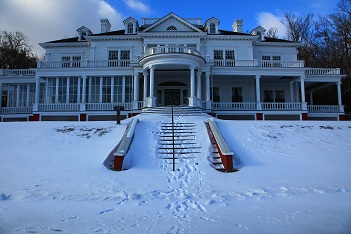 Flat Top Manor (Milepost 294) was the summer house of Moses and Bertha Cone.
Born in 1857 in Jonesboro, Tennessee, Moses Cone began his career in his father's wholesale grocery business. Moses and his brother eventually moved into the textile industry. The Cone mills produced the high quality blue denim fabric, which earned Moses Cone the title "the Denim King."
At the age of 40, Moses acquired 360 acres for his summer estate. The materials for his 20-room Flat Top Manor were hauled up the mountain from Lenoir by oxen. Cone designed and supervised the construction of 25 miles of carriage roads on the estate. He also established apple orchards and built three lakes, stocking them with bass and trout. Upon completion, the estate featured a carbide gas plant for lighting, small herds of dairy cows and sheep, flower and vegetable gardens, a dairy, and a bowling alley.
.
Moses and his wife Bertha spent several summers at the estate enjoying the mountains and entertaining guests. In 1908, a few years after completing the Manor house, Moses Cone died. Bertha outlived her husband by 39 years. When she died in 1947 the estate was turned over to the Cone Memorial Hospital as a "public pleasuring ground." In 1950, the hospital donated the estate to the Blue Ridge Parkway.