Volunteers Needed for Native Bee Inventory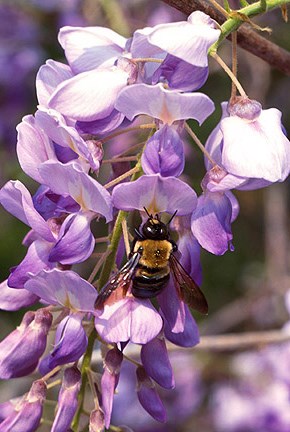 Help Us Discover What Lives in the Park!
How can the park protect what we don't even know that we have? The Blue Ridge Parkway has been trying to remedy that problem by conducting inventories of some of its smaller and less charismatic—but no less important species.
In 2015, with Jennifer Geib and Erik Rayfield of Appalachian State University and a host of volunteer citizen scientists, we inventoried the bumble bees at every other mile post along the parkway, and extended the inventory to include Shenandoah and Great Smoky Mountains national parks in a grand transect across the southern Appalachian Mountains. We were hoping to find an unknown population of the endangered rusty-patched bumble bee (
Bombus affinus
), but though we did not find our target species, we identified ten other species of bumble bee on the parkway—more than in either national park.
In 2016, with Amy and Wayne van Devender of Boone, NC, Denise Furr of the Schiele Museum, and Paul Merrick and Derek Hennen of Virginia Tech University—and many more volunteer citizen scientist volunteers—we explored land snail and millipede biodiversity. Seventy-two sites along the parkway that were thought to have good snail habitat were surveyed and 133 species of snail were discovered, including several state records. Twenty-nine species of millipede were identified.
Now in 2019, we turn our attention to the rest of the native bee species, of which there may be a couple hundred, again with Dr. Geib and with support from the Blue Ridge Parkway Foundation. Sixty-three sites have been selected, from Humpback Rocks at the north end of the parkway to a few miles from the southern terminus. Volunteers are setting out passive collection traps painted blue, yellow, or white (bees' favorite colors) and will check their catch every two weeks into September.
For the native bee inventory in 2019, we need volunteers to adopt sites near the northern end of the parkway (between mileposts 20 and 38) and in the high elevations around Richland Balsam near Waynesville, NC (between mileposts 389 and 435).
If you are interested in adopting one of these plots, please contact
Paul Super
.
Last updated: April 24, 2019