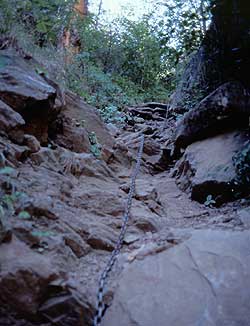 There are no maintained or marked trails into the inner canyon. Routes are difficult to follow, and only individuals in excellent physical condition should attempt these hikes.
Hikers are expected to find their own way and to be prepared for self-rescue. While descending, study the route behind, as this will make it easier on the way up when confronted with a choice of routes and drainages. Not all ravines go all the way to the river, and becoming "cliffed out" is a real possibility.
Poison ivy is nearly impossible to avoid, and can be found growing 5 feet tall along the river. Pets are not allowed in the wilderness. Inner canyon routes are not meant for small children.