Explore the Night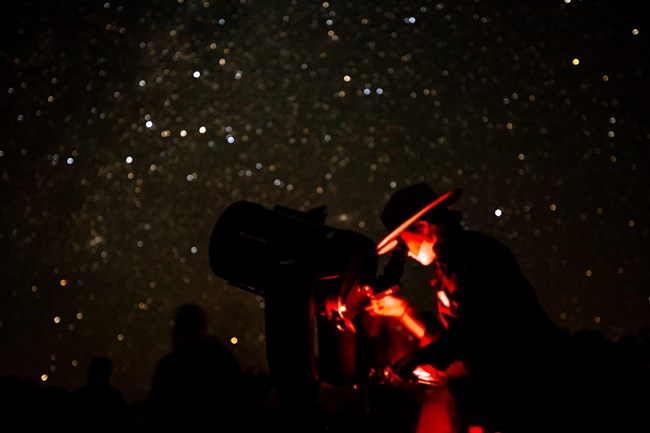 National parks preserve some of the darkest skies in the country. In some areas it's possible to see up to 15,000 stars throughout the night. By contrast, fewer than 500 stars may be visible from more urban environments. What many people don't realize is that light pollution affects more than just astronomers. Nocturnal animals need darkness for survival, and the circadian rhythms of humans and plants rely on an unaltered night sky.
Though light pollution is created by a multitude of lights, these problems can be resolved one light at a time. Black Canyon preserves a primordial dark sky largely unaltered by modernity. The National Park Service wants to keep it that way. To that end, only artificial lighting necessary for safety is in use at the park. Motion detectors limit the light needed within restrooms and other areas in the park. All outdoor lighting devices use low-energy, low-impact bulbs with shields that direct light to the ground where it is needed.
Because of these exceptional skies, astronomy education programs, and responsible lighting, Black Canyon of the Gunnison National Park was designated as an International Dark Sky Park in September 2015. The International Dark-Sky Association works to preserve the skies and educate the public about light pollution and how they can make a difference in protecting dark skies in national parks and at home.
Black Canyon offers night sky viewing opportunities throughout the year. The park is always open to stargaze on your own. Rangers and local astronomers present evening talks from May through September every Wednesday and Friday night (weather permitting). A large astronomy festival takes place each year with guest speakers and special activities. The 2020 festival dates are September 16, 17, 18, 19 - all taking place on the South Rim of the canyon.
Winter astronomy events include night sky viewing in early March along with evening open house celebrations of the Full Moon.
For program details see:
https://www.nps.gov/blca/planyourvisit/calendar.htm
https://www.facebook.com/blackcanyonnps/
For more astronomy information:
https://www.nps.gov/subjects/nightskies/index.htm
Black Canyon Dark Sky Park application and reports:
https://www.darksky.org/our-work/conservation/idsp/parks/blackcanyon/
Last updated: July 5, 2019