Feral Hog Management in the Big Thicket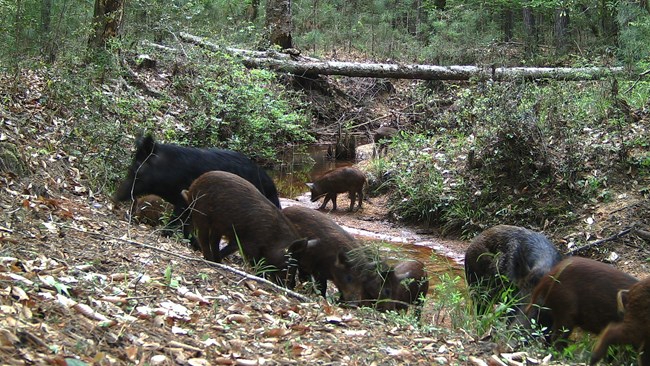 Feral hogs are an invasive species descended from domesticated pigs that were brought to North America by European settlers. Due to their rapid reproduction rate and lack of predators, hog populations have increased rapidly in recent decades. This has resulted in greater competition with native wildlife and severe habitat damage caused by the uprooting of large areas of vegetation.

In November 2013, the National Park Service (NPS) issued a Feral Hog Management Plan and Environmental Assessment, compiled with input from subject matter experts, park partners, and the general public. This plan specifically identifies what tactics and strategies can be used to manage hog populations in the preserve. Based on this assessment, the NPS has chosen to use a dynamic multi-pronged strategy that minimizes impacts on native wildlife and the many park user groups that recreate in the preserve. Frequent monitoring is used to assess the effectiveness of each strategy and to make adjustments, if needed.

Big Thicket National Preserve has chosen to combat the hog population in the following ways:
Public Hunting Hunters are encouraged to hunt hogs during the state archery and general hunting seasons, as well as during an extended 2-month hog season that runs until the end of February.
Professional Trapping Starting in 2017, the preserve contracted with multiple professionals to traps hogs in the preserve. In 2018, professional trappers removed 1,240 hogs. This effort continues into 2019.
Equipment Loan Program The preserve loans out hog trapping equipment to adjacent property owners to help them trap hogs on their land. Those interested in borrowing hog traps should call the preserve's Biological Science Technician at (409) 951-6824.
Public Trapping Program In May 2019, resource management staff began issuing free hog trapping permits to the public. Twenty-five permits were issued this year; 50 permits will be available in 2020 on a first-come, first-served basis. Appointments to get a hog trapping permit may be made by calling the preserve's Biologist at (409) 951-6823.
Last updated: June 23, 2020