Go Big 2021 Challenge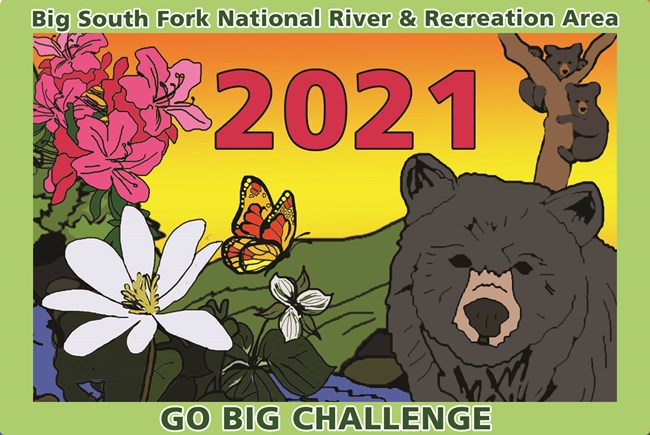 Get up and get moving in 2021! Join in the fun and participate in Big South Fork National River & Recreation Area's all-inclusive GO BIG 2021 Challenge. This year-long self-paced challenge was designed to encourage ALL visitors to explore and experience Big South Fork while maintaining a healthy lifestyle, reducing stress, and being physically active.

Until December 1, participants will earn points on the honor system by answering questions about the nature, and history of the park that will require exploration in search of site-specific information. Those who wish to be considered for an award must have their booklets turned in to the Bandy Creek Visitor Center no later than December 1, 2021. Points will also be given for miles hiked, biked, paddled, or equestrian-ridden. All participants who earn at least 100 points are eligible for the GO BIG 2021 Challenge patch that was specially designed for this event.

To get started, download the challenge booklet, or pick it up at one of our visitor centers.

The challenge booklet is broken up into seven different challenge categories:
Blue Heron Challenge
Flora Challenge
Trails Challenge
Critter Challenge
Ranger Challenge
Community Parks Challenge
Social Media Challenge.
Pick and choose the challenges that are right for you, or choose to do them all!
Share your challenge photos!
We encourage you to share your adventures by emailing your photos to us. Download the GO Big Challenge Photo Release Form, complete it, and email this form with your photos, or mail them to us at the address below. These photos may be shared on our social media sites for other participants to enjoy.

When completed, bring the booklet to Bandy Creek Visitor Center, or mail to:

Big South Fork National River & Recreation Area
4564 Leatherwood Road
Oneida, TN 37841
Attention: Go Big Challenge Coordinator
---
CLICK HERE TO VIEW UPCOMING HEALTHY HIKES (Coming soon!)
Challenge Wrap-up and Celebration
The challenge will wrap up on December 11, 2021 with a GO BIG Celebration. All visitors that participate in the challenge and are present will be recognized for their accomplishments and considered for an award in various categories.

Award Categories for 2021 are:
Most Hiking Miles

Most Biking Miles
Most Canine Miles

Most Equestrian Miles

Most Volunteer Points

First Person to 100 Points

Youth Award: Most Overall Points

Most Overall Points: First and Second Place
**Each participant can only qualify as a winner in one category.**
For more information, please call Bandy Creek Visitor Center at 423-286-7275.
Last updated: January 1, 2021