Blue Heron Decoration Day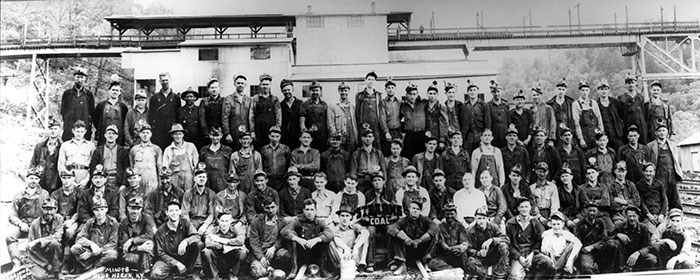 The National Park Service will host the fourth annual Blue Heron Decoration Day event at the Blue Heron Interpretive Center on Saturday, May 20, from 12:00-5:00 pm (ET).
This is an opportunity for park visitors and families that once lived and worked in the Stearns Coal Mining Communities to join together for an afternoon of food, music, fellowship and remembrance.
As part of the celebrations the park is interested in obtaining copies of historic photographs of the people, places and events that occurred in the Big South Fork area prior to the park's establishment to help preserve the rich cultural history of the area. The National Park Service recognizes that there are many important photographs that could be included in the permanent museum collection from the public.
If you have photographs that you would like to incorporate into the National Park Service's museum collection please bring them with you to the event. During Decoration Day, park staff will be available to copy historic photographs of the Big South Fork area. Photo scanning will occur at the Blue Heron Depot (Mine 18) from 12:00-4:30 p.m. It would be most helpful if photo owners can identify the places or people in the photograph, and they will need to sign a release for the Park Service to use the photos in documenting the area's history. In return for scanning a photo, the park will provide the photo owner with a free archival copy of the photograph and a digital copy of the photo if desired (please bring a CD, flash drive, or provide us your email address).
There will also be ranger-led programs throughout the Blue Heron outdoor museum as well as live music from the South Fork Jammers to accompany the afternoon.

If you are interested in volunteering or would like to know more call the Blue Heron Interpretative Center at: 606-376-3787
| | | | |
| --- | --- | --- | --- |
| TIME | SUBJECT | SPEAKER | LOCATION |
| 12:30-1:00 | "Life of a Coal Miner" | Don Tetrick, Park Ranger | Blue Heron, KY |
| | | | |
| 1:30-3:00 | 2.0 mile hike Rails to Trails hike "Cleaning up the Past: The leagacy of coal mining at Blue Heron | Tommy Safranek, Park Ranger | Blue Heron Depot, KY |
| | | | |
| 3:45-4:15 | Blue Heron Outdoor Museum Tour | Karen Thompson | Blue Heron, KY |
| 5:30-7:00 | Book signing "Justice S. Stearns, Michigan Pine King and Kentucky Coal Baron..." | Professor and Author Michael Nagle | Stearns Depot, KY |
Participants are encouraged to bring their own picnic lunch or food and drink can be purchased from the concession stand.
After the festivities at Blue Heron join us in Historic Stearns for a special public appearance and book signing by Professor Michael Nagle in support of his book: Justus S. Stearns: Michigan Pine King and Kentucky Coal Baron, 1845-1933. Professor Nagle will be in the Stearns Depot from 5:30 p.m. to 7:00 pm (ET) and will present a brief talk on the subject of his biography, Justus S. Stearns, namesake of the town of Stearns. Visitors will have the opportunity to purchase signed copies of Mr. Nagle's new book. The event will be cosponsored by the National Park Service, the McCreary County Heritage Foundation, and the McCreary County Tourism Commission.
Decoration Day is free of charge and wheelchair accessible. Everyone is welcome. This program is accessible by car or by the
Big South Fork Scenic Railway
. For directions or additional information, please call the Blue Heron Interpretive Center at (606) 376-3787. For tickets on the Big South Fork Scenic Railway, please call (606) 376-5330.
Cemetery sites in the Park
Continuing with the theme of remembering those who came before us, the National Park Service will provide assistance for family members on May 20, who wish to visit remote cemeteries and do minor clean-up of graves of their relatives. This assistance will be provided to the park cemeteries that are not easy to access and are located inside the park boundary. Transportation from a designated area in the park to the cemetery will be provided only to those that are physically unable to walk round trip, based on a first-come, first-served basis.
Last updated: May 15, 2017