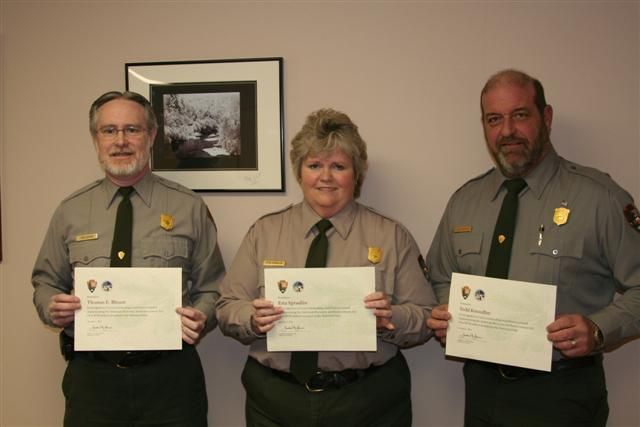 News Release Date:
February 23, 2011
Contact: Tom Blount, 423-569-9778
Big South Fork National River and Recreation Area employees Tom Blount, Etta Spradlin, and Todd Knoedler were recognized by National Park Service Director Jon Jarvis for extraordinary performance in executing American Recovery and Reinvestment Act projects. The National Park Service awarded more than $750 million in less than 18 months for more than 800 critical maintenance and rehabilitation projects throughout the country.
Big South Fork NRRA awarded approximately $2 million for two projects to plug orphaned oil and gas wells and close abandoned mines. The two projects were contracted with local businesses and are the largest oil and gas plugging and reclamation projects that have been done in the National Park Service east of the Mississippi River. The wells being plugged are considered "orphaned" which means there is no responsible party to pay for the plugging and reclamation. The goals of the plugging project are to protect visitor safety and protect groundwater. The abandoned mines are being closed for visitor safety and wildlife protection.
For further information, contact Tom Blount at (423) 569-9778 or visit the park web site at www.nps.gov/biso.