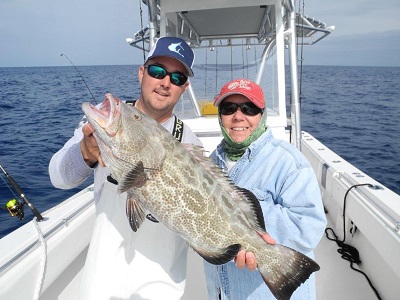 Black grouper caught in the park (above).
Unless you have
fishing and lobstering
skills like those above, there is no food available in the park. There is, however, a restaurant next door in Homestead's Bayfront Park and Marina, and there are a variety of full-service restaurants in nearby cities and towns.
Improve Fishing Skills at Free Biscayne National Park Class
The experience and wisdom of boat captains and scientists combine in free fishing classes taught by park experts. The classes are offered in both English and Spanish at Suniland Park, 8398 SW 128th Street in Pinecrest.
"By helping anglers in the community we are also improving the health of the fisheries and protecting the amazing resources of the park," said Captain Gil Muratori. "Each depends on the other."
A veteran fishing captain, a fishery scientist and a park biologist teach the free courses. They help people to identify the fish they catch, understand fishing regulations and get the most out of their fishing experience. Course benefits include:
Free fish identification guides and other materials.
Advice on tackle, equipment maintenance and fishing techniques including "catch and release."
Understanding how improved fishing depends upon protecting resources.
Seats in the class must be reserved by calling 305-230-1144 x036 or sending an e-mail to
fishingclass@yahoo.com
(se habla Español). Please mention your language preference when registering.
Over a thousand people have benefited from the park's fishing class since it began in 2007. The class is provided as a service to the community by volunteers as well as park employees and contractors.