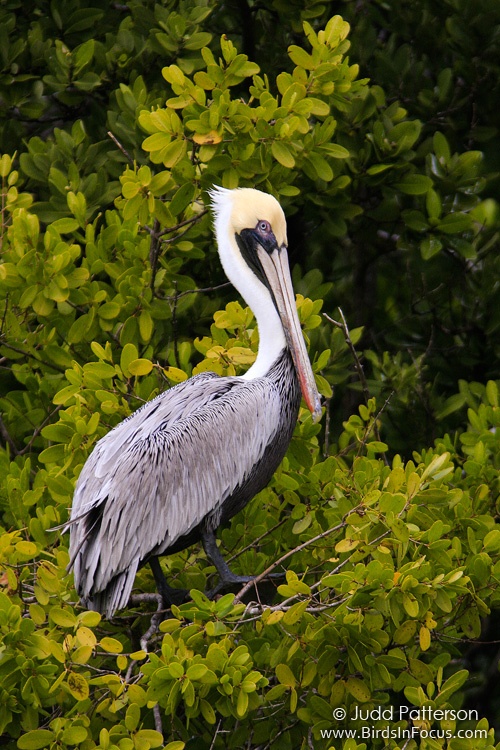 The following birds have been documented at Biscayne National Park. They are sorted alphabetically by common name within their major groupings. The list is not exhaustive, and documented sightings of species not on this list are welcome. Submit new species sightings to the webmaster. Please consider participating in our new Biscayne Birding Trail certificate program!
Loons
Common Loon
Red-throated Loon
Grebes
Horned Grebe
Pied-billed Grebe
Albatrosses, Petrels, and Shearwaters
Audubon's Shearwater
Storm-Petrels
Wilson's Storm-Petrel
Pelicaniformes
American White Pelican
Brown Booby
Brown Pelican
Double-Crested Cormorant
Magnificent Frigatebird
Northern Gannet
Red-billed Tropicbird
Red-footed Booby
Wading Birds
American Flamingo
Cattle Egret
Black-crowned Night-Heron
Glossy Ibis
Great Blue Heron / Great White Heron
Great Egret
Green Heron
Little Blue Heron
Reddish Egret
Roseate Spoonbill
Snowy Egret
Tricolored Heron
White Ibis
Wood Stork
Yellow-crowned Night-Heron
Swans, Geese, and Ducks
American Wigeon
Black Scoter
Blue-winged Teal
Brant
Bufflehead
Canvasback
Fulvous Whistling Duck
Hooded Merganser
Lesser Scaup
Mottled Duck
Muscovy Duck (non-native)
Mute Swan (non-native)
Northern Pintail
Pekin Duck (non-native)
Red-breasted Merganser
Snow Goose
White-winged Scoter
Diurnal Raptors
American Kestrel
Bald Eagle
Black Vulture
Broad-winged Hawk
Cooper's Hawk
Merlin
Northern Harrier
Osprey
Peregrine Falcon
Red-shouldered Hawk
Red-tailed Hawk
Sharp-shinned Hawk
Snail Kite
Short-tailed Hawk
Turkey Vulture
Upland Game Birds
Common Peafowl
Gruiformes
American Coot
Clapper Rail
Common Gallinule


Shorebirds
American Avocet
American Oystercatcher
Black-bellied Plover
Black-necked Stilt
Dunlin
Greater Yellowlegs
Killdeer
Least Sandpiper
Lesser Yellowlegs
Piping Plover
Purple Sandpiper
Red Knot
Red Phalarope
Red-necked Phalarope
Ruddy Turnstone
Sanderling
Semipalmated Plover
Semipalmated Sandpiper
Short-billed Dowitcher
Solitary Sandpiper
Spotted Sandpiper
Western Sandpiper
Whimbrel
Willet
Wilson's Plover
Wilson's Snipe
Jaegers and Skuas
Parasitic Jaeger
Pomarine Jaeger
Gulls, Terns, and Skimmers
Arctic Tern
Black Skimmer
Black Tern
Bonaparte's Gull
Brown Noddy
Caspian Tern
Common Tern
Forster's Tern
Franklin's Gull
Glaucous Gull
Great Black-backed Gull
Herring Gull
Laughing Gull
Least Tern
Lesser Black-backed Gull
Ring-billed Gull
Royal Tern
Sandwich Tern
Sooty Tern
Pigeons and Doves
Common Ground-Dove
Eurasian Collared-Dove (non-native)
Key West Quail-Dove
Mourning Dove
Rock Dove (non-native)
White-crowned Pigeon
White-winged Dove
Parrots and Their Allies
Monk Parakeet (non-native)
Orange-winged Parrot (non-native)
Cuckoos and Their Allies
Black-billed Cuckoo
Mangrove Cuckoo
Yellow-billed Cuckoo
Goatsuckers and Swifts
Chuck-will's-widow
Common Nighthawk
Whip-poor-will
Hummingbirds
Ruby-throated Hummingbird
Owls
Barn Owl
Barred Owl
Eastern Screech Owl
Great Horned Owl
Kingfishers
Belted Kingfisher
Woodpeckers
Downy Woodpecker
Northern Flicker
Pileated Woodpecker
Red-bellied Woodpecker
Yellow-bellied Sapsucker
Tyrant Flycatchers
Eastern Phoebe
Eastern Wood-Pewee
Gray Kingbird
Great Crested Flycatcher
La Sagra's Flycatcher
Western Kingbird
Shrikes and Vireos
Bell's Vireo
Black-whiskered Vireo
Loggerhead Shrike
Red-eyed Vireo
White-eyed Vireo
Yellow-throated Vireo
Jays, Crows, and Their Allies
American Crow
Blue Jay
Fish Crow
Swallows
Barn Swallow
Northern Rough-winged Swallow
Purple Martin
Tree Swallow
Wrens
Carolina Wren
House Wren
Old World Warblers, Thrushers, and Their Allies
American Robin
Blue-gray Gnatcatcher
Gray-cheeked Thrush
Ruby-crowned Kinglet
Swainson's Thrush
Veery
Mimids
Bahama Mockingbird
Brown Thrasher
Gray Catbird
Northern Mockingbird
Starlings and Mynas
European Starling (non-native)
Common Myna (non-native)
Hill Myna (non-native)

Wagtails and Pipits
American Pipit

Waxwings
Cedar Waxwing
Wood Warblers
American Redstart
Bay-breasted Warbler
Black-and-white Warbler
Blackpoll Warbler
Black-throated Blue Warbler
Black-throated Gray Warbler
Black-throated Green Warbler
Cape May Warbler
Common Yellowthroat
Magnolia Warbler
Northern Parula
Northern Waterthrush
Orange-crowned Warbler
Ovenbird
Palm Warbler (Western Palm Warbler)
Prairie Warbler
Worm-eating Warbler
Yellow "Cuban" Warbler
Yellow-rumped "Myrtle" Warbler
Yellow-throated Warbler
Tanagers, Cardinals, and Their Allies
Dickcissel
Indigo Bunting
Northern Cardinal
Painted Bunting
Red-legged Honeycreeper (non-native)
Western Spindalis
Western Tanager
Emberizine Sparrows and Their Allies
Grasshopper Sparrow
Savannah Sparrow
Icterids
Baltimore Oriole
Boat-tailed Grackle
Bobolink
Brown-headed Cowbird
Common Grackle
Orchard Oriole
Red-winged Blackbird
Finches and Old World Sparrows
American Goldfinch
House sparrow (non-native)
RELATED LINKS
For suggested birding locations, please visit our Biscayne Birding Trail Locations page.
For information on accessing segments of the Biscayne Birding trail, click here.
Need some pointers to make the most of your birding trip? Click here for birding tips and ethics.