Family Fun Fest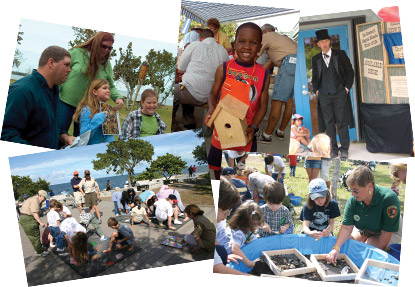 Family Fun Fest is a free public program held on the second Sunday of every month from December through April. Each month, a different aspect of the park's diverse resources is highlighted at five hands-on activity stations located around the Dante Fascell Visitor Center. Participants receive a "passport" that they get punched as they complete each station. Those who get all five punches earn a specially-designed button to remember their day. Special activities for toddlers at Family Fun Fest Junior help make sure that the entire family gets to learn and have fun.
Family Fun Fest 2015-2016: Find Your Park
The National Park Service celebrates its 100th birthday in 2016, so the 16th season of Family Fun Fest will highlight Biscayne's connections to some of the 407 other national parks out there so you can Find Your Park!" The 2015-2016 themes are:
Find Your Park — December 13, 2015 — 1 - 4 p.m.
Discover a national park (or two!) that's absolutely perfect for you! Take a cross-country journey to find national parks, create national park art that's as unique as you are, and try your hand at being a ranger at your very own national park!
I'm on a Boat! — January 10, 2016 — 1 - 4 p.m.
Ahoy! Head to sea to explore history in ocean, coastal and Great Lakes national parks! Try your hand at the whaler's art of scrimshaw, help load a ship with cargo, learn to talk "nauti" with your friends, and more!
My Fellow Americans — February 14, 2016 — 1 - 4 p.m.
Lots of national parks have Presidential connections...including Biscayne National Park! Discover President Hoover's favorite game, listen in on a chat between Teddy Roosevelt and Abraham Lincoln, and continue one First Lady's legacy right in your own backyard.
Wild for Wildlife — March 13, 2016 — 1 - 4 p.m.
Wolves and bears and dinosaurs? National Parks protect them all! See how you measure up to an apatosaurus, get to know a feathered friend, and see if you have what it takes to be an alpha hunter.
Parks and Recreation — April 10, 2016 — 1 - 4 p.m.
How many ways are there to have fun in a national park? How high can you count? Go rock climbing, paddling, birdwatching, and more! Go ahead! Get up! Get out there! Find Your Park!