Family Fun Fest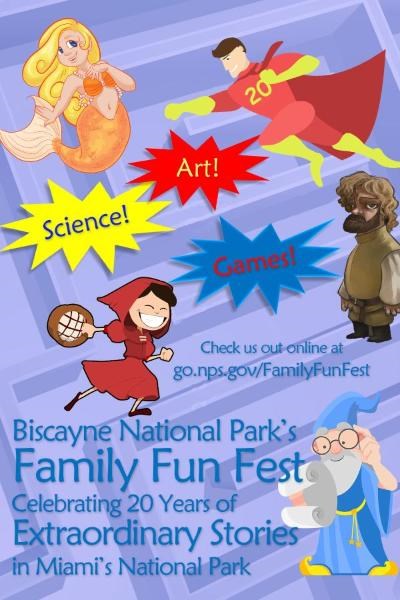 Biscayne National Park Family Fun Fest 2020:
Twenty Years of Extrordinary Stories
"What unites people? Stories. There's nothing more powerful than a good story." - Tyrion Lannister, Game of Thrones

Biscayne National Park's Family Fun Fest began in 2001 as a way for the local community to connect with the diverse stories of the park on a regular basis through fun, hands-on activities that family members of all generations could enjoy. The 20th season of this now multi-award winning event kicks off on December 8, 2019. This year's theme is "Twenty Years of Extraordinary Stories" and pays homage to timeless tales that appeal to all ages. As always, families are encouraged to dress the part to add to the fun. Family Fun Fest Junior lets the toddlers join in the fun with special activities designed just for them. Free transportation is available aboard the Homestead National Parks Trolley departing from Losner Park in downtown Homestead.

• Hairy Otter: Back to Hogfishwarts – December 8, 2019 – 1 - 4 p.m.
Sit in on a potions class with Snape, Transfiguration with McGonagall, Herbology with Sprout and more. Will you survive the Triwizard Trash Maze?
• An Oceanic Odyssey – January 12, 2020 – 1 - 4 p.m.
The Greeks, the Romans, the Norse... all the ancients had stories about the ocean and its inhabitants. Come learn about mermaids, the reason for the tides, and the REAL Atlantis!
• Game of Thrones: The Long Summer – February 9, 2020 – 1 - 4 p.m.
If you thought Tyrion, Jon, Sansa, and Arya had it all under control, hang on to your swords. There is a new threat looming: climate change.
• Fables and Fairy Tales – March 8, 2020 – 1 - 4 p.m.
Some of your favorite children's tales brought to life, with a twist! See what Snow White, Rip Van Winkle, and The Fox and the Hound have been up to at Biscayne!
• BIscayne's Mightiest Heroes – April 5, 2020 – 1 - 4 p.m. (Note date change to FIRST Sunday!)
A woman who changes the weather? A guy who builds webs to climb? A superhero TREE? MARVEL-ous!
Family Fun Fest is made possible through the generosity of The Bobby Duryea Fund at the South Florida National Parks Trust, with additional support from the Biscayne Bay Aquatic Preserves, a variety of other local agencies and businesses, and a host of dedicated volunteers.


Last updated: February 17, 2021